Sir Elton John Coins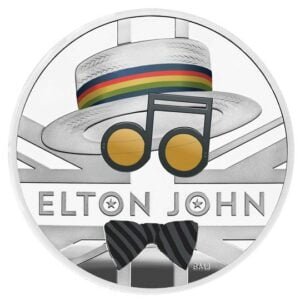 Elton John is, without a doubt, a British music legend. The Royal Mint released Sir Elton John Coins as the second in a Music Legends British Coin series on the 6th of July 2020. These coins celebrate bands and music artists in the UK. Other releases include The Who coins, Queen coins, and David Bowie coins.
Elton John Coins eBay Listings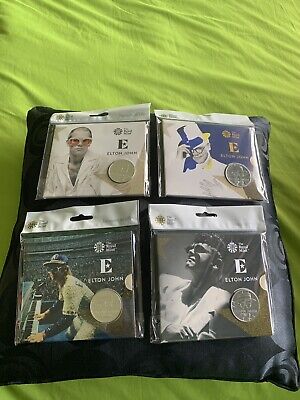 Bids: 0 bids
Watching: 0 people
£80.00
View on eBay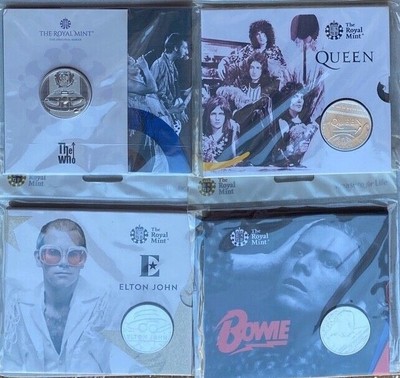 Bids: 0 bids
Watching: 0 people
£80.00
View on eBay
Prices shown here may not be final, check eBay for final selling price plus any applicable tax, import or shipping charges. These are not our products for sale. Please check all details directly with the eBay seller before commiting to any purchase.
Sir Elton John on a UK Coin
A Royal Proclamation was issued on the 14th of February 2020.
The news comes following the exciting release of the first coin in The Royal Mint's Music Legends coin series, the Queen Coins back in January 2020.
The obverse of the coin includes the usual Queen's effigy by Jody Clark with the inscription "· ELIZABETH II · D · G · REG · F · D · 2 POUNDS ·" and the date of the year.
The reverse design of the coin will show Elton John's boater hat, glasses, and bow tie set against a union flag and the inscription "ELTON JOHN". The coin shall have a plain edge with a decorative star pattern and the inscription "ELTON JOHN".'
The Elton John Coins will be available in Gold Proof, Silver Proof, and Brilliant Uncirculated (BUNC) editions.
The Gold Proof Coins are already sold out at The Royal Mint, with some appearing for sale on eBay listings.
Elton John 2020 UK £5 Brilliant Uncirculated Coin – Rocket Man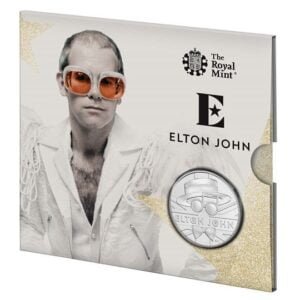 A delightful gift for fans of British pop music
Celebrates the incredible career of one of the bestselling British artists of all time
Features the first coin design inspired by Bradley Morgan Johnson Part of The Royal Mint's exciting Music Legends series
Finished to Brilliant Uncirculated standard
Choose one of three limited-edition slipcases, each celebrating a different era in Elton John's incredible career
Just 15,000 of each limited edition presentation are available to own
A poster matching the slipcase comes with each coin
An ideal gift for the Elton John fan in your life
The coin design has been approved by Elton John
Silver Proof Coins
Half-Ounce Silver Proof Coin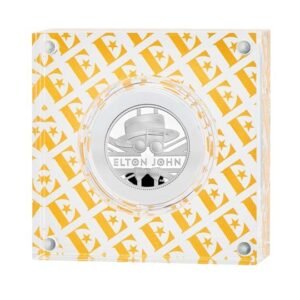 Limited Edition 14,000 coins
Celebrate one of the best selling British artists of all time
The only coin in the range displayed in a colour printed acrylic block
Features the official portrait of Her Majesty The Queen on the coin's obverse
Struck in 999 fine silver and finished to Proof standard
| | |
| --- | --- |
| Denomination | £1 |
| Maximum Coin Mintage | 15,000 coins |
| Limited Edition Presentation | 14,000 coins |
| Alloy | 999 Fine Silver |
| Weight | 15.71 g |
| Diameter | 27.00 mm |
| Reverse Designer | Bradley Morgan Johnson |
| Obverse Designer | Jody Clark |
| Quality | Proof |
| Year | 2020 |
| Product Code | UK20EJHS |
One Ounce Silver Proof Coin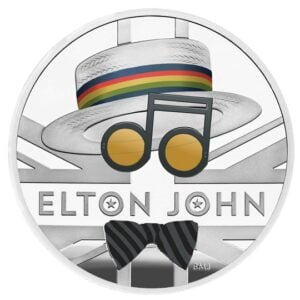 Limited Edition 7,500 Coins
The edge lettering reads ★ ELTON JOHN ★
The only coloured coin in the range and the only one to feature edge lettering
Features a coin design approved by Elton John
Struck in 999 fine silver and finished to Proof standard
| | |
| --- | --- |
| Denomination | £2 |
| Maximum Coin Mintage | 10,000 coins |
| Limited Edition Presentation | 7,500 coins |
| Alloy | 999 Fine Silver |
| Weight | 31.21 g |
| Diameter | 38.61mm |
| Reverse Designer | Bradley Morgan Johnson |
| Obverse Designer | Jody Clark |
| Quality | Proof |
| Year | 2020 |
| Product Code | UK20EJ1S |
Two Ounce Silver Proof Coin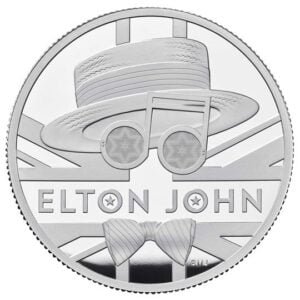 Limited Edition 500 coins
A silver coin that celebrates the superstar Elton John
An innovative coin surface design creates a pulsating pattern in the lenses of the glasses
The second release in the exciting Music Legends series
A great gift for fans of Elton John

Sold out on the day of release
| | |
| --- | --- |
| Denomination | £5 |
| Maximum Coin Mintage | 500 coins |
| Alloy | 999 Fine Silver |
| Weight | 62.42 g |
| Diameter | 40.00 mm |
| Reverse Designer | Bradley Morgan Johnson |
| Obverse Designer | Jody Clark |
| Quality | Proof |
| Year | 2020 |
| Product Code | UK20EJ2S |
| Price | £195.00 |
Gold Proof Coins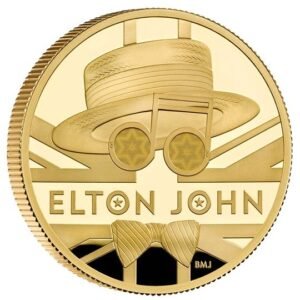 Quarter-Ounce Gold Proof Coin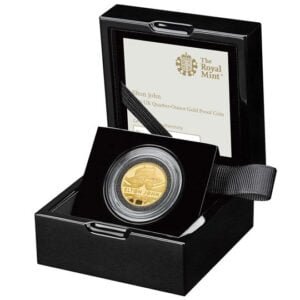 Limited Edition 1,000 coins
Features a design inspired by one of Elton John's most iconic looks
Celebrate one of Britain's most popular musical exports
The second release in the Music Legends series in 2020
Struck in 999.9 fine gold and finished to Proof standard
A Limited Edition Presentation of 1,000 coins

Sold out on the day of release
| | |
| --- | --- |
| Denomination | £25 |
| Maximum Coin Mintage | 1,100 coins |
| Limited Edition Presentation | 1,000 coins |
| Alloy | 999.9 fine gold |
| Weight | 7.80 g |
| Diameter | 22.00 mm |
| Reverse Designer | Bradley Morgan Johnson |
| Obverse Designer | Jody Clark |
| Quality | Proof |
| Year | 2020 |
| Product Code | UK20EJQG |
| Price | £585.00 |
One Ounce Gold Proof Coin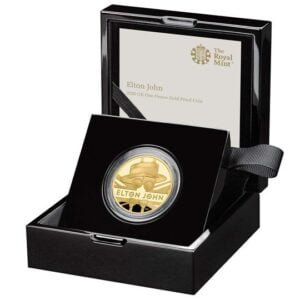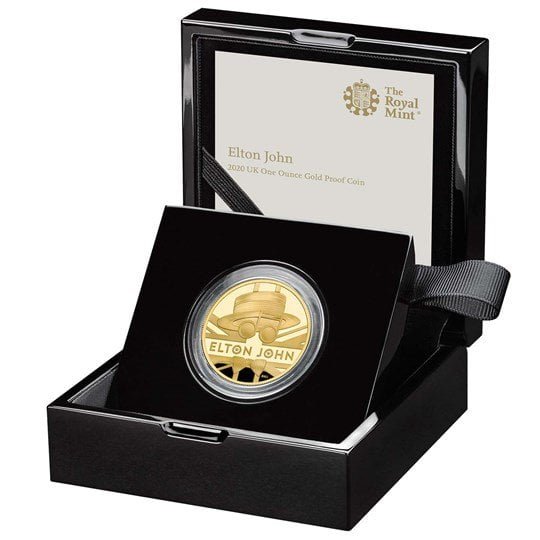 Limited Edition 250 coins
Elton John honoured in 999.9 fine gold
The reverse design by Bradley Morgan Johnson features glasses symbolic of Elton John
A fitting way to celebrate one of Britain's golden stars
Only 250 available in this presentation
Finished to Proof standard – the highest standard available from The Royal Mint

Sold out on the day of release
| | |
| --- | --- |
| Denomination | £100 |
| Maximum Coin Mintage | 300 coins |
| Limited Edition Presentation | 250 coins |
| Alloy | 999.9 fine gold |
| Weight | 31.21 g |
| Diameter | 32.69mm |
| Reverse Designer | Bradley Morgan Johnson |
| Obverse Designer | Jody Clark |
| Quality | Proof |
| Year | 2020 |
| Product Code | UK20EJ1G |
| Price | £2,320.00 |
Two Ounce Gold Proof Coin
A coin design approved by Elton John
An innovative coin surface design creates a pulsating pattern in the lenses of the glasses
The hat, bow tie, and notation glasses have an exceptionally high relief
Features the first coin design by Bradley Morgan Johnson
A Limited Edition Presentation of just 50 coins

Sold out on the day of release