How much is Benjamin Bunny 50p worth?
To a British coin collector, the value of a Benjamin Bunny 50p coin is worth around £1.25, based on recent coins marked as sold on eBay UK.
Benjamin Bunny 50p eBay Listings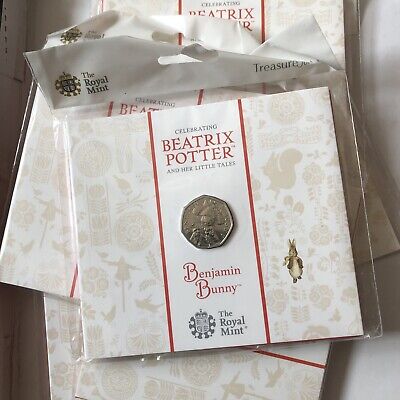 Bids: 0 bids
Watching: 2 people
£5.00
View on eBay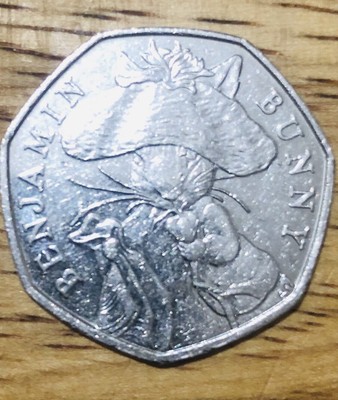 Bids: 0 bids
Watching: 156 people
£10000.00
View on eBay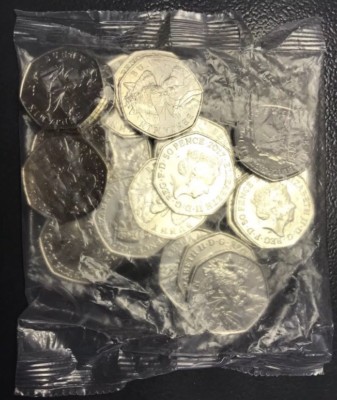 Bids: 0 bids
Watching: 7 people
£19.99
View on eBay
Prices shown here may not be final, check eBay for final selling price plus any applicable tax, import or shipping charges. These are not our products for sale. Please check all details directly with the eBay seller before commiting to any purchase.
Coins on eBay
You can buy this coin on eBay UK
The Royal Mint released the circulated and BUNC coins as a plain base metal. Only the Silver Proof has a colour-printed decal.
We have noticed some eBay sellers are selling circulated or BUNC coins with after-market decals applied, so they may look like the silver coin when in fact they are not!
Please read the eBay coin listing very carefully and ask the Seller questions directly to be sure of what you are buying.
2017 Benjamin Bunny 50p
The Benjamin Bunny 50p is the fourth and final Beatrix Potter fifty pence to be released in the 2017 set celebrating Beatrix Potter and Her Little Tales.
This is the first time a 50p Benjamin Bunny has featured on an official United Kingdom coin.
The UK Royal Mint coin by designer Emma Noble shows Benjamin Bunny wearing a floppy hat called a Tam O'Shanter!.
How rare is the Benjamin Bunny 50p?
With twenty-five million coins put into UK circulation, Benjamin Bunny is a very common coin to find in your pocket change or for sale on eBay.
Check our coin prices page for a full list of rare UK coin values.
Coin Sales
| 2017 BENJAMIN BUNNY 50P | SALES |
| --- | --- |
| BRILLIANT UNCIRCULATED COIN | 158,022 |
| SILVER PROOF COIN | 29,321 |
| SILVER COIN FOR RETAIL/TRADE | 4,893 |
| SILVER PROOF COIN AND BOOK GIFT SET | 1,607 |
Check our Beatrix Potter coins page for full details on the mintage figures for each of the other coins in circulation.
Brilliant Uncirculated Coin
Benjamin Bunny was released in a Brilliant Uncirculated (BUNC) coin pack by The Royal Mint. This was originally sold for £10 plus P&P.
Finished to Brilliant Uncirculated standard – a finer finish than circulating coins
Presented in a fold-out case including quotes from Beatrix's original tales
Endorsed by Frederick Warne & Co (a Penguin Random House company)
| | |
| --- | --- |
| DENOMINATION | 50p |
| ALLOY | Cupro-nickel |
| WEIGHT | 8.00 g |
| DIAMETER | 27.30mm |
| REVERSE DESIGNER | Emma Noble |
| OBVERSE DESIGNER | Jody Clark |
| QUALITY | Brilliant Uncirculated |
| YEAR | 2017 |
| Price On Day Of Release | £10.00 |
Silver Proof Coins
Limited Edition Presentation 30,000 coins
Struck in 925 sterling silver and finished to Proof standard
Enhanced by colour printing
PRODUCT CODE: UK17BBSP
| | |
| --- | --- |
| ALLOY | .925 Sterling Silver |
| WEIGHT | 8.00g |
| DIAMETER | 27.30mm |
Post Office Edition
Silver Proof versions of the Benjamin Bunny 50p were also sold by The Post Office and other stores, in a black box edition.
Coin & Book Gift Set
Coin & Book Gift Set includes:
The first and only official United Kingdom coin to feature Benjamin Bunny™
Struck in sterling silver and finished to Proof standard
Enhanced by colour printing
An exclusive book cover designed for the set
Maximum Coin Mintage 40,000 Silver Proof Coins
PRODUCT CODE: UK17BBGS
Who is Benjamin Bunny?
Benjamin Bunny is the cousin of Peter Rabbit.
His story is the fourth of the little tales and a sequel to 'The Tale of Peter Rabbit'. The story sees Benjamin join forces with his cousin Peter to venture into Mr. McGregor's garden and retrieve the clothes Peter lost in his first adventure. The intrepid rabbits escape a near miss with the farm cat and receive a firm lesson from Mr. Benjamin Bouncer for their trouble.
What's the name of Benjamin Bunny's hat?
It's called a Tam O'Shanter!
A tam o' shanter (in the British military often abbreviated to ToS), or 'tammie' is a name given to the traditional Scottish bonnet worn by men. The name derives from Tam o' Shanter, the eponymous hero of the 1790 Robert Burns poem. Source: Wikipedia