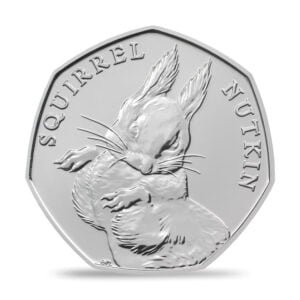 Squirrel Nutkin 50p Coin
Squirrel Nutkin 50p coin was issued in August 2016 as the 5th coin in the first Beatrix Potter coin series from The Royal Mint.
What is the Squirrel Nutkin 50p value?
The Squirrel Nutkin 50p value is 50 pence, however, a British Coin Collector may pay a premium to add it to their UK coin collection.
You can expect to pay between £1 to £3 for one from general circulation on eBay, depending upon the condition.
The coloured Silver Proof version is worth much more however prices have been falling recently to lower values than those seen in prior years.
Check our 50p coins price list for values of all coins.
How rare is the Squirrel Nutkin 50p coin?
5 Million Squirrel Nutkin 50p coins were released into general circulation. How does this compare?
| | |
| --- | --- |
| Coin Name | 2016 Mintage |
| Jemima Puddle-Duck 50p | 2.1 million coins |
| Beatrix Potter 50p | 6.9 million coins |
| Mrs. Tiggy-Winkle 50p | 8.8 million coins |
| 2016 Peter Rabbit 50p | 9.6 million coins |
Beatrix Potter Coins
The popular series that celebrates the wonderful world of Miss Potter now continues with its final coin for 2016, which follows those struck for Beatrix herself and the iconic Peter Rabbit. This time The Royal Mint has chosen the lovable rogue, Squirrel Nutkin. For over a century, the playful character has found a place in the hearts of so many, through the cautionary tale of how the impish squirrel drives Old Brown the owl to distraction – losing half his tail for his trouble.
Royal Mint engraver, Emma Noble, has put Squirrel Nutkin at the very heart of the coin, instantly recognisable, with his whiskers and once bushy tail captured in fine detail in the coin's Brilliant Uncirculated finish. The coin will stand alongside the rest of the series, presented in packaging inspired by the illustrations created by Beatrix herself.
Collect all 4 characters: Peter Rabbit, Squirrel Nutkin, Mrs. Tiggy-Winkle, and Jemima Puddle-Duck.
BEATRIX POTTER™ © Frederick Warne & Co., 2016