The Public Libraries 50p coin design features an open book above a grand library with the words "Public Libraries" on the face.
In addition are the key dates of 1850 and 2000 and the words 50 pence.
Public Libraries 50p eBay



Watchers: 5 watching

Timeleft: 8 days 15 hours 42 minutes 25 seconds




£3.29




Watchers: 12 watching

Timeleft: 1 day 12 hours 6 minutes 20 seconds




£5.50




Watchers: 4 watching

Timeleft: 6 days 16 hours 20 minutes 57 seconds




£5.49




Watchers: 1 watching

Timeleft: 29 days 10 hours 54 minutes 42 seconds




£23.00




Watchers: 5 watching

Timeleft: 24 days 22 hours 5 minutes 30 seconds




£3.99




Watchers: 22 watching

Timeleft: 23 days 15 hours 35 minutes 1 second




£500.00
Prices shown here may not be final, check eBay for final selling price plus any applicable tax, import or shipping charges. These are not our products for sale. Please check all details directly with the eBay seller before committing to any purchase.
Public Libraries 50p Coin Specifications

Issued
2000
Diameter
27.30mm
Weight
8.00g
Thickness
1.78mm
Composition
Cupro-nickel (75% copper, 25% nickel)
Obverse Designer
Portrait of Her Majesty the Queen 2000 – Ian Rank-Broadley FRBS
Reverse Designer
Mary Milner Dickens
Edge
Plain
Mintage
11,263,000
Public Libraries 50p Characteristics
Example circulated coin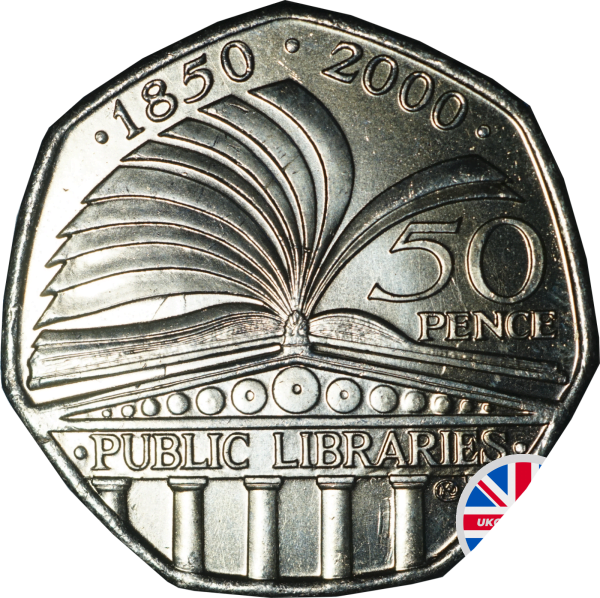 The dates 1850 to 2000
50 pence in words
Classic Library Building with the words PUBLIC LIBRARIES
The circles within the pediment of the Library Building are meant to resemble compact discs (CDs)
Public Libraries 50p 150th Anniversary
Commonly found in pocket change, this 50p was issued in the year 2000 to commemorate 150 years since the Public Libraries Act came into power in 1850.
Around 1 in 160 of 50 pence coins in general circulation have this design.
The purpose of the Public Libraries Act was to improve our quality of life by giving everyone free access to books. Previously only rich people could afford books in those days.
What is the 50p Public Libraries worth?
There were 3 versions of this coin produced by The Royal Mint. Those in general circulation (that you find in pocket change), a special edition in BU as a First Day Cover and Silver Proof.
We have seen circulated versions of this coin typically sell for £1 on eBay. See current Public Libraries 50p eBay listings.
1850 to 2000 Public Libraries 50p value
Circulated Average £1
1st day cover £9
Silver Proof Average £20
Prices are a guide only and are based on recent sales we have seen on eBay. We do not value individual coins as condition and authenticity can vary wildly. Check our 50p coin values page for other coin prices.
How many Public Libraries 50p coins were produced?
The rarity of the Public Libraries 50p is sometimes hyped in the UK press as a "rare coin", however with 11,263,000 Public Libraries 50p coins put into general circulation, it is collectible but not rare. Special Proof versions were also minted for the serious coin collector along with special presentation packs that are rarer.
Public Libraries First Day Cover
A limited-edition of 35,000 coins and stamps were issued as a First Day Cover by The Royal Mint. Also known as a PNC.
It looks like a red and white envelope with the issue number and the words "Philatelic Numismatic Cover".
To read more on the history of Public Libraries, see http://www.politics.co.uk/reference/public-libraries
Public Libraries Silver Proof Coin
Public Libraries Silver Proof Coin with Certificate of Authenticity (COA).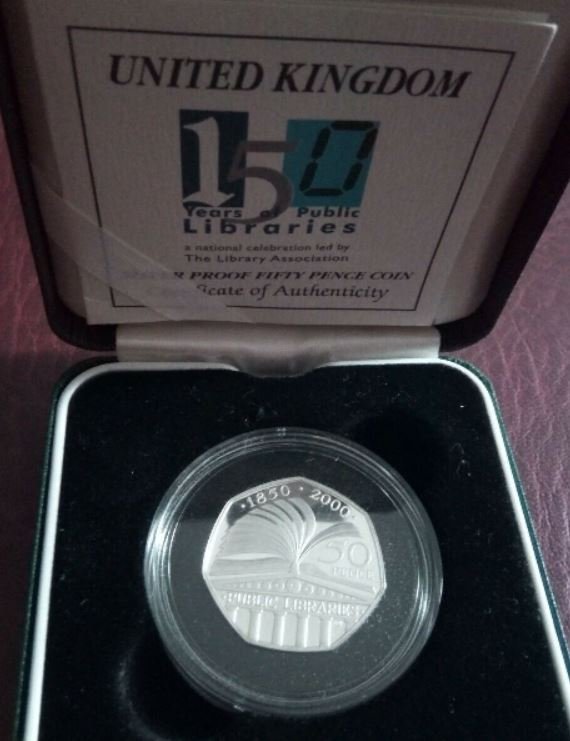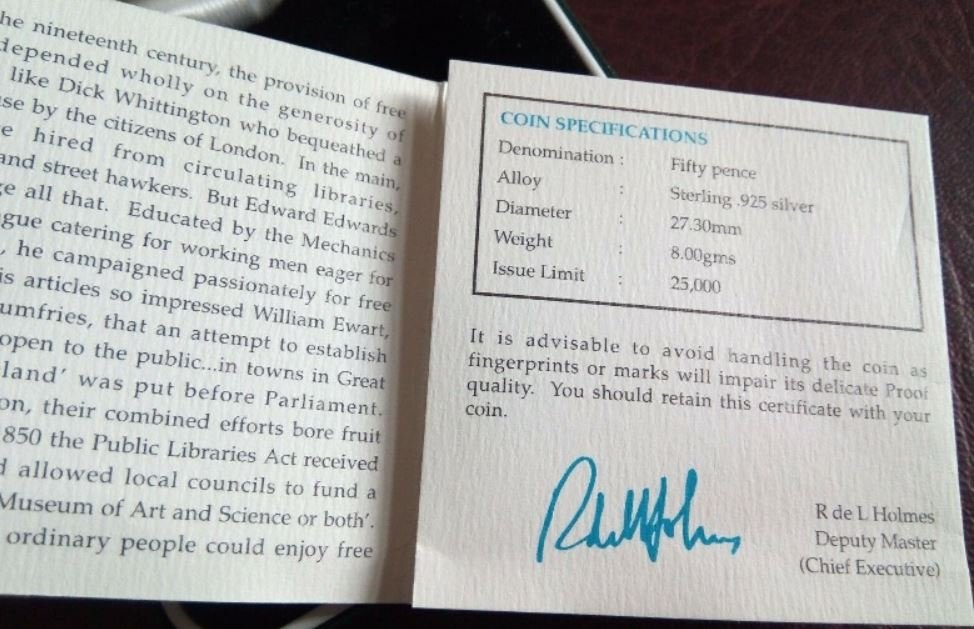 Minted in .925 Silver weighing 8gms with a limited edition presentation of 25,000 coins.
Public Libraries 50p Video