Alan Turing Coins
The Royal Mint has released Alan Turing 50p coins as the final design in the Innovation In Science Series.
Available in four variants, BU, Silver, Piedfort, and Gold.
| Image | Alan Turings Coins | Mintage | Issue Price | Link |
| --- | --- | --- | --- | --- |
| | Brilliant Uncirculated Coin | Unlimited | £10.00 | Buy It Now |
| | Silver Coin | Limited Edition 3,000 | £57.50 | Buy It Now |
| | Silver Piedfort Coin | Limited Edition 1,500 | £102.50 | Buy It Now |
| | Gold Coin | Limited Edition 180 | £1,150.00 | Buy It Now |
#ad you can also check prices on eBay UK from 3rd-party sellers
Video
Celebrate the life and legacy of Alan Turing on a UK coin
Features a reverse design by Matt Dent and Christian Davies
The final coin in the Innovation in Science 50p series from The Royal Mint
Accompanied by bespoke packaging that details Turing's life and remarkable achievements
Alan Turing 50p Coins from the Royal Mint
With groundbreaking theories and innovative work in computing, mathematics, and science, Alan Turing's ingenuity and intellect remain revered within public and academic circles.
Estimated to have saved millions of lives by shortening the war, his codebreaking logic applied during the Second World War and fellow codebreakers serve as an act of intellectual heroism.
In recent years, Turing has become a figurehead for gay rights following his posthumous pardon from Her Majesty The Queen in 2013, which has since led to further pardons to gay men and created what's become known as 'Turing's Law'.
In 2022, we celebrate the man with a great mind with a UK 50p coin available as a gold Proof, Silver Proof, Silver Proof Piedfort, and Brilliant Uncirculated edition. Recently honoured by the Bank of England by the inclusion of his portrait on a new £50 note, this is the first time we have commemorated Alan Turing on a UK coin.
What is Alan Turing most famous for?
Turing's most notable work today is as a computer scientist. Turing invented computer science and the idea of the computer.
In 1936, he developed the idea for the Universal Turing Machine, the basis for the first computer. In addition, he developed a test for artificial intelligence in 1950 which is still used today.
Did Alan Turing break the Enigma Code?
Turing personally broke the form of Enigma that was used by the U-boats preying on the North Atlantic merchant convoys. It was a crucial contribution to defeating the Germans in WWII.
To find out more and Alan Turing and his work during World War 2, check out the movie "The Imitation Game" also on Netflix
What other 50p coins are there to collect?
Check our page for 50p Coin Values and Rare 50p coins in circulation for other coins to collect.
If you have a 50p you can check the value using our 50p Coin Value Checker.
£50 Notes
Alan Turing is also featured on fifty-pound notes as reported in the BBC news.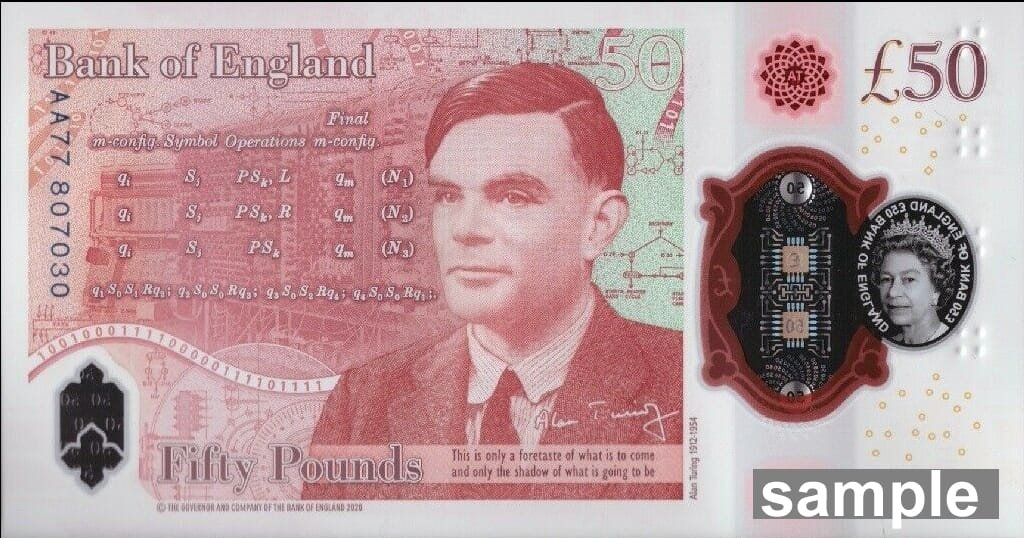 The Royal Pardon
In 2013, he was given a posthumous royal pardon for his 1952 conviction for gross indecency following which he was chemically castrated.
He had been arrested after having an affair with a 19-year-old Manchester man.