Platinum Jubilee 50p Coin
The Platinum Jubilee 50p coin range release from The Royal Mint celebrates the Platinum Jubilee of Her Majesty The Queen in 2022.
This is the first time a Royal event is celebrated on a 50p coin, usually it is on a £5 coin. There is also a Platinum Jubilee £5 crown coin available and both are part of the 2022 Annual Coin Sets.
The Platinum Jubilee collection went on general sale on 6 January 2022 at 9am.
Click the red button to check current prices and availability at The Royal Mint website.
These coins are available on eBay
Will this coin be in circulation?
On the 21st January, The Royal Mint announced that this coin will be entering circulation and available from UK Post Offices from 6th February 2022. Read our news article for all the details.
Coin Design
The Platinum Jubilee 50p coin design is the work of design agency Osborne Ross. They are no strangers to numismatic design as the same agency recently produced the commemorative coin design for the John Logie Baird 50p coin.
We wanted to design a coin which had both elegance and gravitas to reflect such an historic occasion. It was felt that a purely typographic solution would convey the dignity of the event and, through our choice of typeface, the grace and grandeur of our monarch.

The typeface Didot was selected for the exquisite contrast of its thick and thin [lines], together with the beautiful teardrop shape on the number 7. We worked closely with the [Product] Design department at The Royal Mint, using their expertise to add nuance and subtle modelling to the concept and bring it alive as an object to treasure.
Andrew Ross, Osborne Ross Design Ltd. (Designer of the Platinum Jubilee 50p) Co-designed by Andrew Ross and Deborah Osborne. This is why the coin bears the initials AR (Andrew Ross) and DO for Deborah Osborne.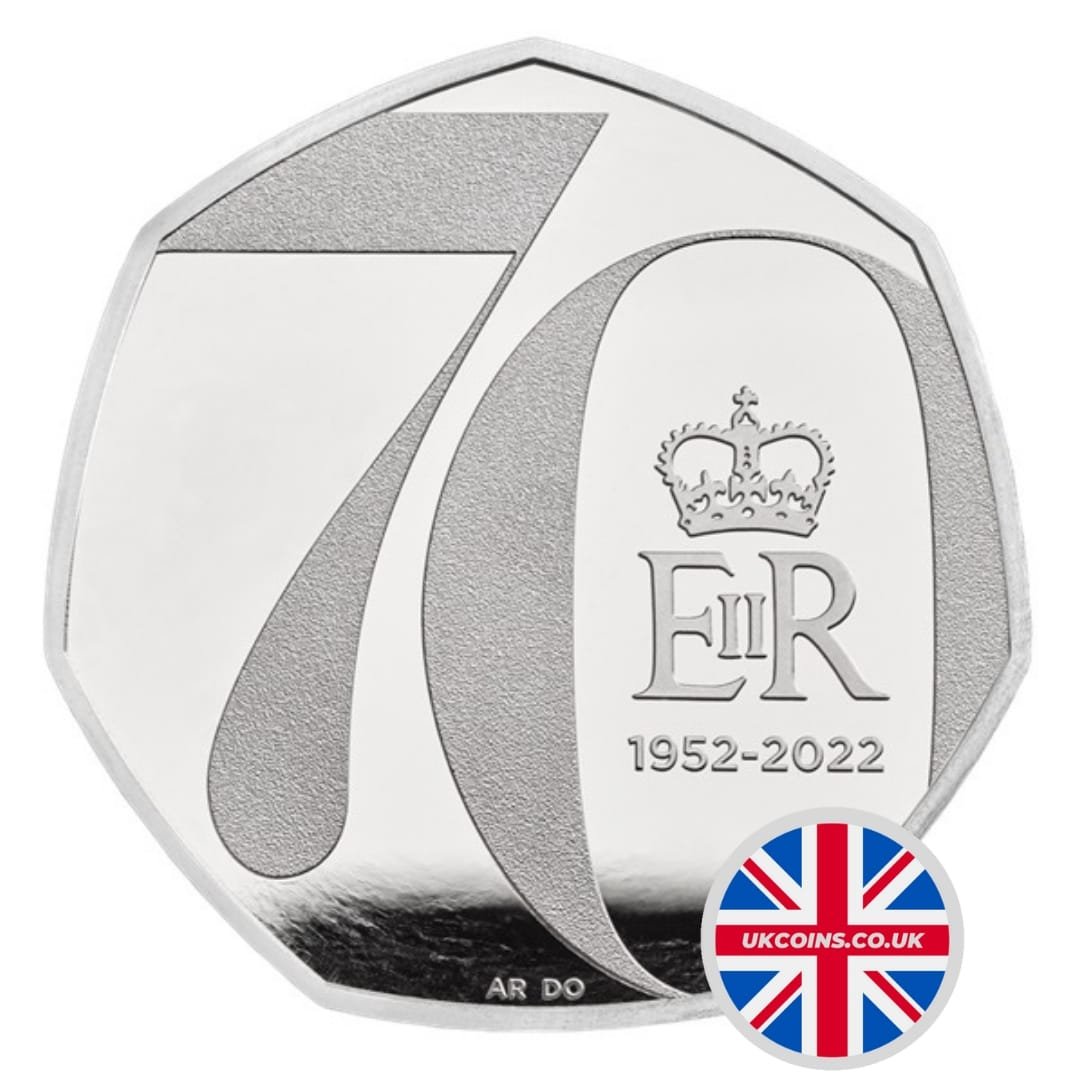 What 50p coins celebrate the Platinum Jubilee?
A circulated version is available from UK Post Offices.
The released coins are collectible commemorative coins for coin collectors and will include:
Brilliant Uncirculated 50p Coin – with a special Obverse design.
Strike Your Own (SYO) BU 50p (available only from the Royal Mint Experience tour)
Silver Proof Coin
Silver Proof Piedfort Coin
Gold Proof Coin
Gold Proof Piedfort Coin
Platinum Proof Coin
Brilliant Uncirculated 50p Coin features a special obverse design that is different from the using Jody Clark effigy of her Majesty The Queen.
How many coins are being made?
| | | | |
| --- | --- | --- | --- |
| Coin Name | Mintage | Issue Price | Status |
| 50p Brilliant Uncirculated Coin | Unlimited | £7.00 | Awaiting Stock |
| 50p Brilliant Uncirculated Two-Coin Set | 1,952 | £26.00 | No Longer Available |
| 50p Silver Proof Coin | 5,000 | £57.50 | No Longer Available |
| 50p Silver Proof Piedfort Coin | 2,500 | £102.50 | No Longer Available |
| 50p Silver Proof Two-Coin Set | 700 | £130.00 | No Longer Available |
| 50p Gold Proof Coin | 400 | £1,095.00 | No Longer Available |
| 50p Platinum Proof Coin | 70 | £1,395.00 | No Longer Available |
Watch the video