Mary Anning 50p Dinosaur coins.
British palaeontologist Mary Anning is celebrated with a new collection of 50p coins, each featuring one of three prehistoric reptiles she discovered. The coins can be bought exclusively from The Royal Mint.
The first coin, featuring a Temnodontosaurus, is available to buy now
Dinosaur 50p Coins
The Royal Mint has released three new Dinosaur 50p coins in 2021 as part of the Tales of the Earth coin series.
The previous three Dinosauria Collection fifty pence coins are to be joined by The Mary Anning Collection.
Mary Anning 50p coin designs
The three new 50p coins in The Mary Anning Collection will include:
Temnodontosaurus 50p
Available now.
Available now in five variants:
| | | |
| --- | --- | --- |
| Base Metal | Mintage | Issue Price |
| Brilliant Uncirculated | Unlimited | £10.00 |
| Brilliant Uncirculated Coloured | 50,000 | £20.00 |
| Silver Proof | 3,000 | £62.50 |
| Silver Proof Coloured | 7,000 | £67.50 |
| Gold Proof | 250 | £1,100.00 |
Depicting a Temnodontosaurus accompanied by the inscription "TEMNODONTOSAURUS" and "MARY ANNING 1811". Developed in conjunction with the Natural History Museum London
Plesiosaurus 50p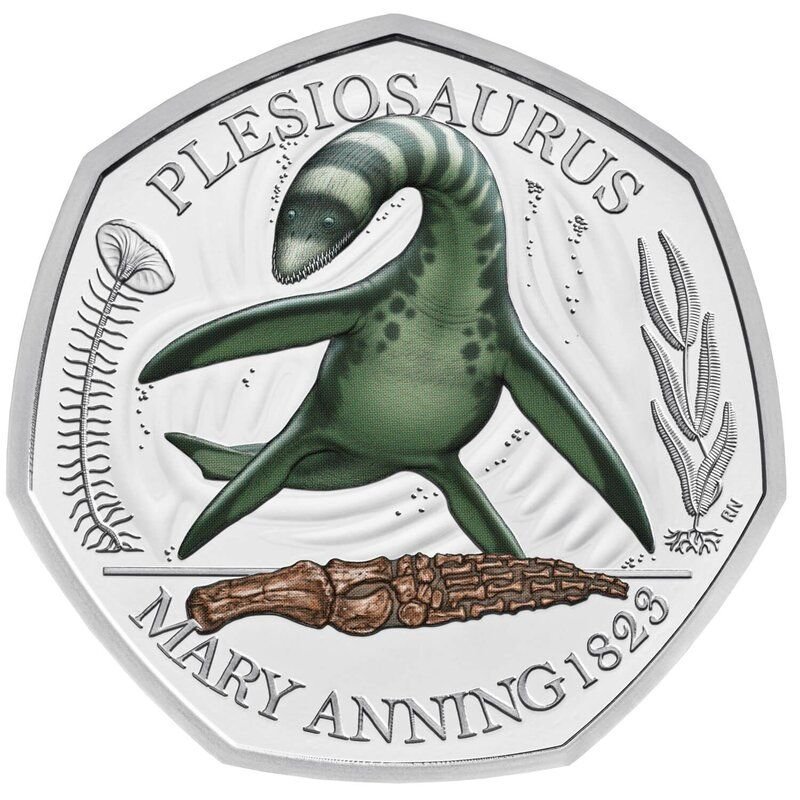 Depicting a Plesiosaurus accompanied by the inscription "PLESIOSAURUS" and "MARY ANNING 1823"
Dimorphodon 50p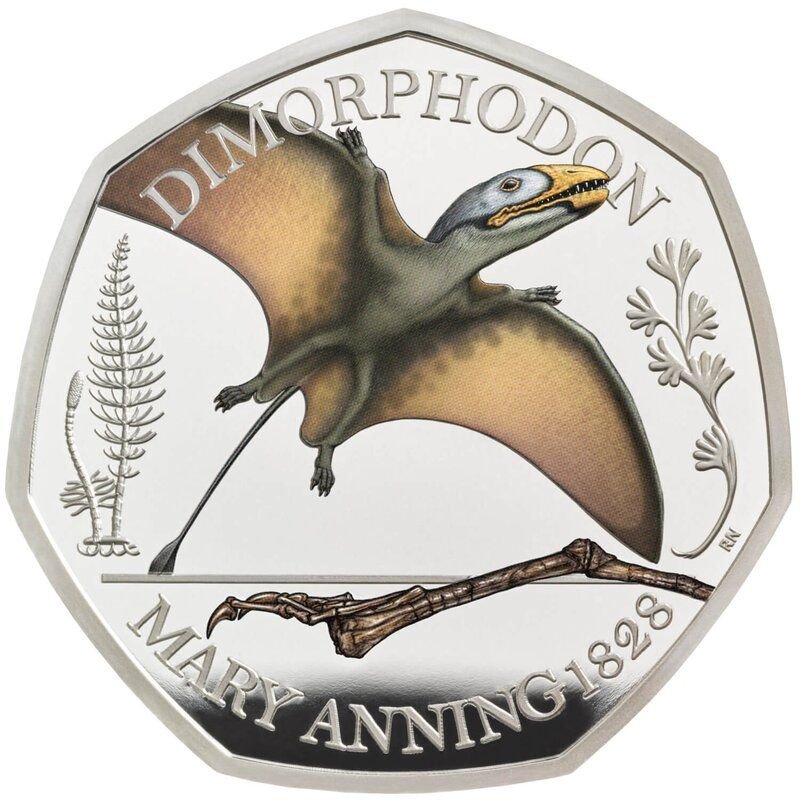 Depicting a Dimorphodon accompanied by the inscription "DIMORPHODON" and "MARY ANNING 1828".
Obverse 50p Design
The obverse impression Our effigy with the inscription "· ELIZABETH II · D · G · REG · F · D · 50 PENCE ·" and the date of the year 2021.
Source: https://www.thegazette.co.uk/notice/3670651
Shop Dinosaur Coins
If you missed out on the first Dinosaur 50p coins, some are still available direct from The Royal Mint or on eBay.
Dinosauria 50p coin set
Released in early 2020, the Dinosauria three-coin set included:
What 50p coins will be released?
These coins are minted in gold, silver, and cupro-nickel finishes. The Brilliant Uncirculated and Silver Proof editions are available in both plain and colour editions.
Will these coins enter general circulation?
Following the previous Dinosaur 50p set coin releases, these coins will not enter general UK coin circulation and will be released as commemorative coins for coin collectors.
Mary Anning was a pioneering Palaeontologist and fossil collector. Her lifetime was a constellation of firsts.
Mary Anning was born in 1799 in Lyme Regis, in the southwest English county of Dorset. Lyme Regis is now part of what is now called the Jurassic Coast, and discoveries are still being made to this day.
While Mary was growing up, George III was king, the war between the British and Napoleon's French army was raging on and Jane Austen had written Sense and Sensibility! Find out more about Mary.
Watch the Video
Dinosauria 50p Coins For Sale