Jemima Puddle-Duck 50p
Current eBay for sale listings for the Jemima Puddle-Duck 50p
2016 Jemima Puddle-Duck 50p Coin
The Jemima Puddle-Duck 50p is one of the rarest and most sought after fifty pence coins from The Royal Mint Beatrix Potter coin collection with a release date in 2016. See our 50p coin list for the current value.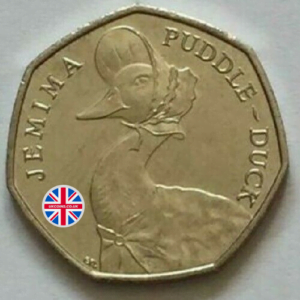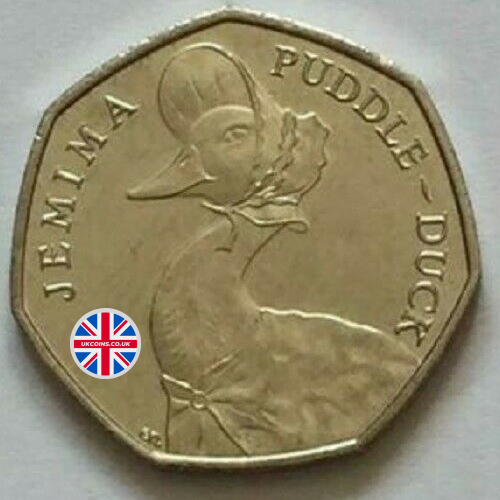 When the official mintage figures were published, it was confirmed that only 2.1 million 50p Jemima Puddle Duck coins were put into circulation.
That is less than 25% of the number of 2016 Peter Rabbit coins in circulation.
The coins in circulation that you may find in your pocket change will most likely show signs of wear from hitting other coins or being dropped. These are known as "circulated" condition coins.
How many 2016 Jemima Puddle-Duck 50p coins were minted?
Mintage figures for the Jemima Puddleduck 50p circulation coin that you will find in your change are 2,100,000 coins.
How much is the Jemima Puddle-Duck 50p worth?
As a result of their scarcity, the Jemima 50p coins may be worth more than their fifty pence face value to a coin collector. See our 50p coin values page for the current estimated value.
There were a few different versions of the Jemima coin issued by The Royal Mint.
The Brilliant Un-circulated (BU) edition of this coin was issued in a collectors folder so what most people would refer to as "mint condition". These cost £10 plus postage at the time of issue but are now sold out at the mint.
There was also a coloured Silver Proof version of this coin with a maximum mintage of 16,000 priced at £55 each. Sellers are now asking hundreds of pounds for this coin.
Brilliant Uncirculated Coin
The Jemima Puddle-Duck 2016 UK 50p Brilliant Uncirculated Coin was issued as part of the Royal Mint 2016 range of coins celebrating the 150th anniversary of the birth of Beatrix Potter.
Presented in fold-out packaging inspired by Beatrix's own illustrations
Limited to 10 per household
Issue Price: £10.00
Product code: UK16BJPB
Brilliant Uncirculated Coin Specification
| | |
| --- | --- |
| Denomination | 50p |
| Alloy | Cupro-nickel |
| Weight | 8.00g |
| Diameter | 27.30mm |
| Reverse Designer | Emma Noble |
| Obverse Designer | Jody Clark |
| Quality | Brilliant Uncirculated |
| Year | 2016 |
Example BU Pack
Silver Proof Coin
Reverse
This coin incorporates colour printing technology.
The reverse design shows a colour image of Jemima Puddle-Duck.
It was designed by the Royal Mint engraver, Emma Noble, who designed the rest of the coins in the Beatrix Potter series.
Obverse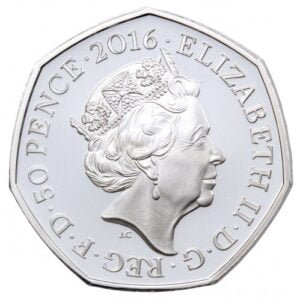 The obverse shows the fifth portrait of Queen Elizabeth II, by Jody Clark.
Certificate of Authenticity (COA)
Booklet
The Tale of Jemima Puddleduck was published in July 1908.
It tells the story of the Jemima, and her interaction with Mr. Tod, a fox plotting to eat her.
Example Silver Proof Coin
This is a Limited Edition Presentation coin of 15,000 coins.
The maximum coin mintage figure is 16,000 coins.
Silver Proof Coin Specification
| | |
| --- | --- |
| Denomination | 50p |
| Limited Edition Presentation | 15,000 |
| Maximum Coin Mintage | 16,000 |
| Alloy | .925 |
| Quality | Proof |
| Diameter | 27.30mm |
| Weight | 12g |
| Reverse Designer | Emma Noble |
| Obverse Designer | Jody Clark |
Read news articles on the Jemima Puddle Duck coin value
This coin was big news after The Royal Mint released the low mintage figures, here are some top news articles for your interest:
Metro Rare Jemima Puddle-Duck 50p coin could be worth a lot more than face value
Somerset Live Collectors claim that Jemima Puddleduck 50p coins are worth a fortune – they are rare but do you have one?
The Sun MORE BANG FOR YOUR DUCK Do you have a Jemima Puddle-Duck 50p? Collectors hunt for rarest Beatrix Potter coin
iNews What you need to know if you have a Jemima Puddle-Duck 50p
Watch the video
Collect all 4 characters: Peter Rabbit, Squirrel Nutkin, Mrs. Tiggy-Winkle and Jemima Puddle-Duck
BEATRIX POTTER™ © Frederick Warne & Co., 2016