Battle of Britain 50p: how much is it worth?
The Battle of Britain 50p coins are common to find in your pocket change so sell for only around £1 to £1.50 on eBay for a coin in good condition.
Right Now on eBay

PAIR OF 50P COINS 2015 BATTLE OF BRITAIN & 2016 BATTLE OF HASTINGS IN CAPSULES




Bids: 0 bids

Watching: 11 people

Timeleft: 20 days 12 hours 26 minutes 32 seconds

£3.99


View on eBay

Rare & Valuable UK 50p Coins Fifty Pence Circulated Beatrix Potter Olympics WWF




Bids: 0 bids

Watching: 67 people

Timeleft: 28 days 15 hours 43 minutes 27 seconds

£3.35


View on eBay

BATTLE OF BRITAIN 1940 Full Colour Silver Commemorative SUPERMARINE SPITFIRE WW2




Bids: 0 bids

Watching: 53 people

Timeleft: 20 days 17 hours 10 minutes 34 seconds

£8.99


View on eBay

50p COINS FIFTY PENCE,OLYMPICS,BEATRIX POTTER,COMMEMORATIVE,KEW COIN




Bids: 0 bids

Watching: 6 people

Timeleft: 1 day 16 hours 59 minutes 25 seconds

£4.69


View on eBay

THE BATTLE OF BRITAIN 1940 50p Coin 2015. Collectable.




Bids: 0 bids

Watching: 0 people

Timeleft: 29 days 20 hours 1 minute 52 seconds

£2.75


View on eBay

Rare 50p Coins Olympic Beatrix Potter Kew Isle Of Man WWF Snowman Fifty Pence




Bids: 0 bids

Watching: 10 people

Timeleft: 11 hours 31 minutes 10 seconds

£2.69


View on eBay
#ad Prices shown here may not be final, check eBay for final selling price plus any applicable tax, import or shipping charges. These are not our products for sale. Please check all details directly with the eBay seller before commiting to any purchase.
Battle of Britain 50p: is it rare?
With a mintage figure of 6 million coins put into circulation, this coin is not considered rare.
Entering circulation in 2015, improves your chances of finding one in your change.
What is the coin design?
The reverse design of this coin portrays pilots running towards their awaiting Spitfire planes in response to a scramble command. This scene was usually due to radar spotting incoming German planes over the English Channel on their way to bomb British cities during the blitz.
Designed by sculptor Gary Breeze, the three airmen bravely run towards danger to fight the incoming bombers.
The words 'BATTLE OF BRITAIN' are inscribed in the middle of the coin and the year '1940' is etched below.
What coin variants were minted?
In addition to circulated coins, there are also commemorative variants of this coin released by The Royal Mint.
75th Anniversary of the Battle of Britain 2015 50p BU Coin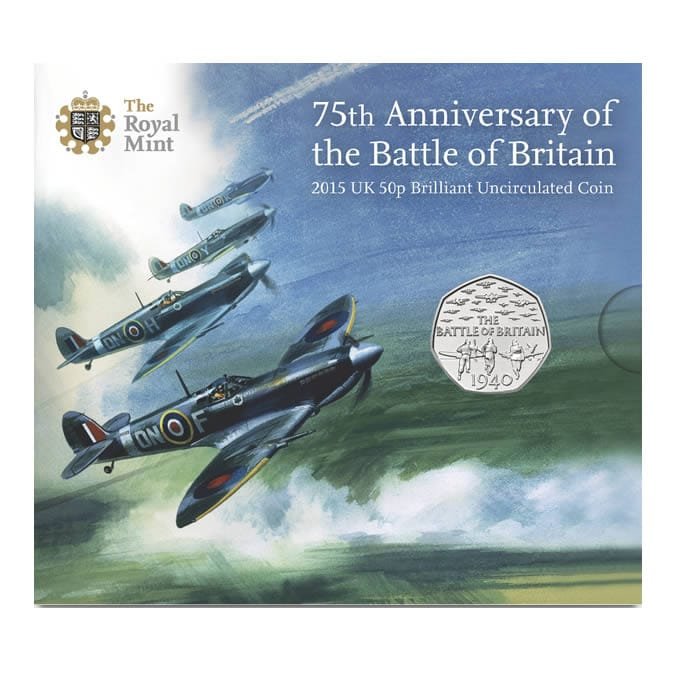 The only official coin for the 75th anniversary
Fascinating display pack complete with poster
Explore the stories of the Battle of Britain
Product code: UK15BBBU
Issue Price: £8.00
BU PNC (coin and Stamp Set)
Product code: UKBOBPNC
Issue Price: £15.95
Silver Coin
Struck in 925 sterling silver
Bears the new portrait of Her Majesty The Queen
Product code: UK15BBSP
Limited Edition Presentation: 4,000
Issue Price: £50.00
Silver Piedfort Coin
Struck in 925 sterling silver
Double thickness Piedfort coin – a prestigious edition
Product code: UK15BBPF
Limited Edition Presentation: 1,940
Issue Price: £100.00
Gold Proof Coin
Struck in 22-carat gold
Product code: UK15BBGP
Limited Edition Presentation: 500
Issue Price: £675.00
Is there a Battle of Britain Error Coin?
In 2015 the obverse design of the fifty pence coins was changed from the 4th portrait by Ian Ran-Broadly to an updated design by Jody Clark.
Silver Proof / BU / Circulated
The BU coin was released in advance of the circulated coins and (some say mistakenly in error) featured the IRB design. The later coins were issued with the JC design.
There are 4 obverse designs for this coin.
Circulated coin – 5th portrait of The Queen by JC (Jody Clark) with FIFTY PENCE denomination
BU – 4th portrait of The Queen by IRB (Ian Rank-Broadly) with no denomination (FIFTY PENCE)
Silver – 5th portrait of The Queen by JC (Jody Clark) with no denomination (FIFTY PENCE)
2019 re-issue
This coin was re-issued in 2019 as part of the 50 Years of the 50p celebrations.
Check your change for the IRB variant. If you find it that means someone put a BU version into general circulation. Unlikely, but they have been found.
Their Finest Hour
Released in 2015 to commemorate 75 years since the Battle of Britain in 19640, this fifty pence hours those who fought for control of the skies over England.
In the summer of 1940 Britain faced the threat of invasion. It would fall to brave young pilots and their crews to protect the country's defences – the Battle of Britain had begun.
It was their finest hour – who can imagine the world today if they had failed in their task?
In 1940 France had fallen, and crossing the English Channel to continue the domination of Europe was the objective of Hitler's 'Operation Sea lion'.
For Hitler to succeed Britain's defences would have to be weakened. Fighters and bombers took to the air on both sides, winning the aerial battle above Britain would be a key victory to secure.
The pilots had an average age of just 21 years old.
They flew aircraft like the Spitfire and the Hurricane with skill and determination. Many pilots and their crews were lost in the Battle of Britain, but the Royal Air Force ultimately prevailed, turning Hitler's sights from our shores.
We would live in a very different Britain today had they not succeeded. You can explore the stories of the Battle of Britain in the colourful display pack that houses the commemorative UK 50p struck to honour the 75th anniversary of this important battle. It is the only official coin to be released, and with its design showing airmen scrambling to their planes, not heeding the danger looming above, it truly echoes the spirit of the summer of 1940.
About the coin designer
Gary Breeze is a sculptor working in stone and wood with major commissions found throughout the United Kingdom, including the Bali Bombing Memorial at Horse Guards Road, London, and the Christ Church Cloister fountain in Oxford. Other notable works can be seen at the Scottish Parliament, Westminster Abbey, Chatsworth Gardens, and The Victoria and Albert Museum as well as many universities and schools.
Gary continues to exhibit widely and was awarded the first Jerwood Contemporary Makers prize in 2008. That same year he won the prestigious Leverhulme Trust award for an artist residency at the University of Southampton Department of Archaeology. This is his first coin for The Royal Mint.
In some ways the Battle of Britain appeals to our innate joy at winning against tremendous odds. I wanted to celebrate that in one sense. But I think that remembering the cost of war is more relevant today. I spent a good deal of time concentrating on the machines at first, but the aircraft didn't say enough about the sacrifice of life or the meaning of the Battle today. My workshop consists of a small design team, which includes my brother Lee Breeze – he thought of the idea of focusing on the people rather than the machines of war.

My original design incorporated the quotation from Churchill – "Never in the field of human conflict was so much owed by so many to so few". The Few seemed like a great point of focus for this, and the scrambling airmen, running with enthusiasm to their potential deaths to protect us is an evocative image.

Coming towards the men is a swarm of aircraft. I've always recalled my Grandfather talking of the skies being dark because there were so many bombers. I believe he was in fact talking about our own planes flying out, but I wanted to illustrate that threat and sense of danger.

I would like people to be reminded of the selfless sacrifice of the Few. The airmen run away from us. They don't walk slowly to their fate, and we may never see them again.
If you like the Battle of Britain 50p, see also the D-Day 50p coins.