Alice In Wonderland Coins
The Royal Mint release of a new two-coin series featuring Alice in Wonderland to celebrate the 150-year publication anniversary.
The first coin is Alice meets the Cheshire Cat and the second coin features twins Tweedledum and Tweedledee in Through the Looking-Glass Coins.
Alice in Wonderland Coins eBay Listings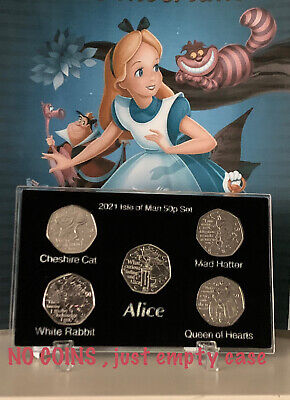 Bids: 0 bids
Watching: 20 people
£5.95
View on eBay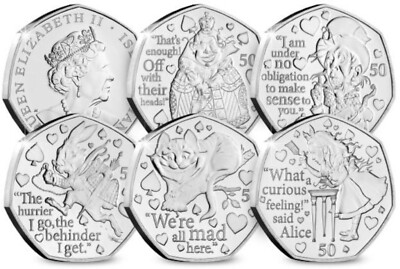 Bids: 0 bids
Watching: 20 people
£8.60
View on eBay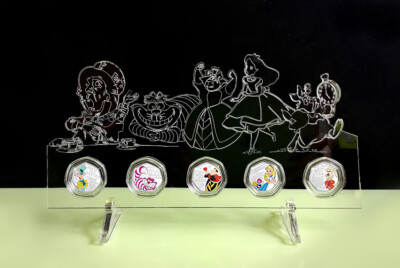 Bids: 0 bids
Watching: 17 people
£12.99
View on eBay
Prices shown here may not be final, check eBay for final selling price plus any applicable tax, import or shipping charges. These are not our products for sale. Please check all details directly with the eBay seller before commiting to any purchase.
Alice in Wonderland £5 Coin
Lewis Carroll's story about an inquisitive young girl called Alice will be celebrated on a £5 coin for the very first time!
Alice's Adventures in Wonderland is a truly original literary masterpiece and timeless tale made for the imagination by Lewis Carroll. In 2021, Created in collaboration with the V&A, this coin is exclusively brought to you from The Royal Mint's Treasury of Tales.
Alice's Adventure in Wonderland is a great story with many life lessons in it. Alice is one of our favourite characters. As she makes her way through wonderland she learns that in a mad and confusing world home is an escape. Some of the great lessons she learns. Curiosity can lead to new and exciting things but can also get you in trouble so it must be used with caution.
Made for both adults and children alike, Alice's mind-bending trip into Wonderland is a classic example of literary nonsense, a popular form of writing in the mid-nineteenth century.
What's more, the book has never been out of print since its first publication in 1865. Whilst Carroll's words weave endless possibilities for our imagination, graphic humorist and political cartoonist Sir John Tenniel provided charming illustrations that helped bring the story to life – one of which features the reverse design for this coin.
This wonderful tribute to one of the most imaginative tales in literary history is a coin that can serve as a treasured keepsake for ardent fans of the book, or even the perfect 'unbirthday' gift for a friend or loved one to start or add to their collection.
Coin Designs
The first coin depicts the scene where Alice meets the Cheshire Cat and will be available from the Royal Mint.
It is the first in a two-part series, with a second coin due to be released later this year featuring a scene from Lewis Carrol's second Alice book, Through The Looking Glass.
The second coin will feature twins Tweedledum and Tweedledee.
The first coin is being launched alongside the V&A's new exhibition Alice: Curiouser and Curiouser – which features a collection of Sir John's famous illustrations from the books.
The Royal Proclamation, published on the 28th May 2021, states:
The design of the said cupro-nickel coin shall be as follows:

'For the obverse impression Our effigy with the inscription "· ELIZABETH II · D · G · REG · F · D · 5 POUNDS ·" and the date of the year, and for the reverse either:

(a) a depiction of Alice and the Cheshire Cat sat in a tree accompanied by the inscription "ALICE'S ADVENTURES IN WONDERLAND"; or

(b) a depiction of Alice and the characters Tweedledee and Tweedledum and the inscription "THROUGH THE LOOKING-GLASS".

The coin shall have a grained edge.'
It is likely that the coins will be released in plain and coloured variants and in cupro-nickel, silver, and gold proof limited editions.
Alice In Wonderland Coins 2021
These coins from The Royal Mint are £5 collectible coins and not Alice In Wonderland 50p coins, previously released from the Isle Of Man.
Alice In Wonderland 50p Coins eBay
IOM 50p coins include the five coins listed below:
Alice "What a curious feeling!" said Alice
Cheshire Cat "We're all mad here"
Queen of Hearts "That's enough! Off with their Head"
The Mad Hatter "I am under no obligation to make sense to you"
The White Rabbit "The hurrier I go, the behinder I get"
Alice In Wonderland Internet Resources