The Tale of Peter Rabbit 50p coins
Peter Rabbit 50p coins were first issued by The Royal Mint in 2016 featuring the famous rabbit from the Beatrix Potter books as a Beatrix Potter 50p. The fifth and final Peter Rabbit 50p coin was released in March 2020. See more 50p Coin Values
Some versions are now considered rare 50 pence coins, especially the 2016 Silver Proof.
2016
The first coin celebrating Peter Rabbit™ was released in 2016 in celebration of the 150th anniversary of Beatrix Potter's birth. It featured an up-close portrait of Peter Rabbit™ looking straight on and his iconic whiskers were a focal point in the design.
2017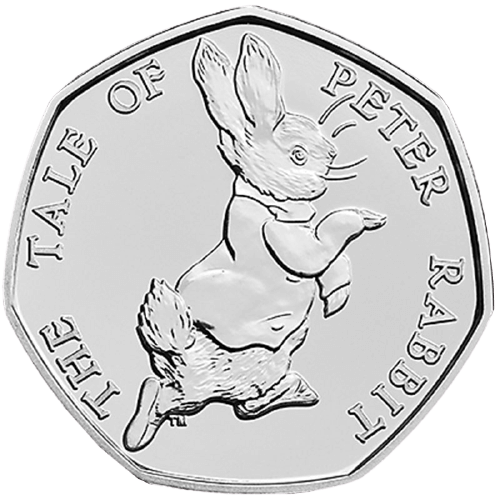 Following the success of the Beatrix Potter™ coins released in 2016, the second Peter Rabbit™ design was released in 2017 and the coin's designer, Emma Noble, engraved one of the most iconic images of Peter, hopping away on one of his adventures.
2018
The third design, released in 2018, depicts Peter Rabbit™ just as Beatrix Potter painted him. Every detail, from his little blue coat to his long whiskers, has been captured on the coin's small surface. It shows the iconic image of Peter Rabbit™ munching on radishes after another near-miss in Mr. McGregor's garden.
2019
We released the fourth Peter Rabbit™ coin in 2019, this time with a design from 'The Tale of Benjamin Bunny'. Peter Rabbit™ appears in his usual blue jacket but is clutching the red cotton pocket-handkerchief that had saved his modesty after losing his clothes in Mr. McGregor's garden yet again.
The only opportunity to own this coin is direct from The Royal Mint (click below) – you won't find it in your change.
2020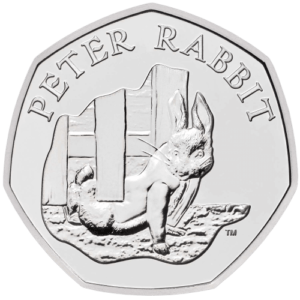 This is the fifth and final year that Peter Rabbit™ will appear on a UK 50p coin. He is shown squeezing under the gate to Mr. McGregor's garden on the lookout for lettuces, radishes and mischief!
The only Beatrix Potter coin for 2020
The last time Peter Rabbit will feature on a UK 50p coin
The only opportunity to own this coin is direct from The Royal Mint (click below) – you won't find it in your change.
2021 Peter Rabbit Coins
The Royal Mint has announced that a new £5 will be issued featuring Peter Rabbit and friends. 2020 is the last time Peter Rabbit will appear on a fifty pence coin.
Is the Peter Rabbit 50p a rare coin?
Mintage figures for the Peter Rabbit coins in general circulation.
| Year | Mintage |
| --- | --- |
| 2016 | 9,600,000 |
| 2017 | 19,300,000 |
| 2018 | 1,400,000 |
The 2019 and 2020 coins were collectable coins only, you will not find them in your pocket change.
Silver Proof Coin Mintage Figures
The following table shows how many Silver Proof Peter Rabbit coins were minted per year:
| | |
| --- | --- |
| Year of Issue | Mintage |
| 2016 | 15,000 |
| 2017 | 40,000 |
| 2018 | 45,000 |
| 2019 | 30,000 |
| 2020 | 14,500 (15,000 MCM) |
How much is the Peter Rabbit 50p worth?
There are thousands of the general circulation versions of the Peter Rabbit 50p coins for sale on ebay.co.uk
If you are looking for a BU condition coin, read the eBay listing carefully as a lot of these coins are taken from bags of 20 coins that you can get from The Post Office. Whilst uncirculated, they may still have some damage from being in a bag with other coins.
We have also seen coloured coins in plastic displays made to look like the Silver Proof version of these coins.
The colour is from stickers (or decals) that you can buy on eBay and not issued that way from The Royal Mint (apart from the Silver Proof).
The Tale of Peter Rabbit Coins
'The Tale of Peter Rabbit' was the first of Beatrix Potter's 23 little tales.
This story of four little rabbits named Flopsy, Mopsy, Cottontail and Peter has since captured the imaginations of millions of children around the world, with Peter becoming the emblem of Beatrix Potter's work.
Generation after generation has enjoyed reading about the blue-coated bunny and his antics in Mr McGregor's vegetable garden. The mischievous character has been captured on UK 50p coins.
Daily Telegraph Video and news page from April 2017.
BEATRIX POTTER™ Peter Rabbit™ © Frederick Warne & Co.