Gothic Crown Coins
The Gothic Crown coins design is considered by many UK coin collectors as one of the most beautiful coins ever struck by The Royal Mint as part of The Great Engravers coin set.
Shop Now direct at the Royal Mint website.
Shop Now
at The Royal Mint
Completely sold-out at The Royal Mint within hours of their release, you can check eBay below for Gothic Crown coins for sale.
These are low-mintage silver and gold coins that sold out fast!
this site contains affiliate links
Gothic Crown eBay Listings

Bids: 0 bids
Watching: 5 people
£12950.00
View on eBay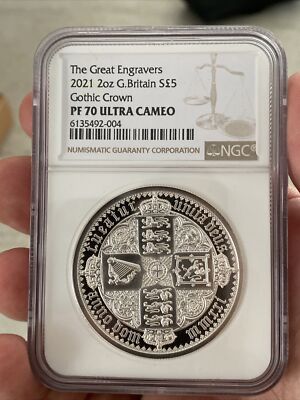 Bids: 0 bids
Watching: 5 people
£550.00
View on eBay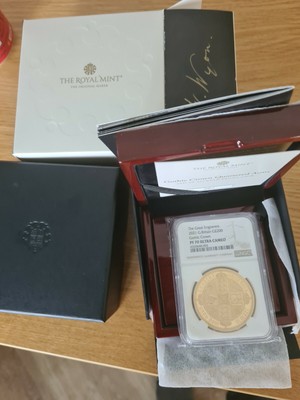 Bids: 0 bids
Watching: 9 people
£8600.00
View on eBay
Prices shown here may not be final, check eBay for final selling price plus any applicable tax, import or shipping charges. These are not our products for sale. Please check all details directly with the eBay seller before commiting to any purchase.
Other coin releases in The Great Engravers coin set include Una and The Lion, The Three Graces, and The Gothic Crown Portrait.
Gothic Crown Quartered Arms 2021
In 2021, The Great Engravers continues with the first of two coins paying homage to the Gothic Crown.
What are the mintages of the 2021 Quartered Arms Crowns?
The Quartered-Arms coins and mintages are as follows.
| | | |
| --- | --- | --- |
| Coin Name | Mintage | Issue Price |
| 2oz Silver Proof Coin | Limited Edition 3,750 | £ 260.00 |
| 5oz Silver Proof Coin | Limited Edition 500 | £ 555.00 |
| 10oz Silver Proof Coin | Limited Edition 225 | £ 1,020.00 |
| 2oz Gold Proof Coin | Limited Edition 350 | £ 5,120.00 |
Based on the reverse of the original coin – an ornate quartered shield design that has a long tradition in British numismatics. It is a fitting tribute to one of the most talented engravers to work on British coinage.
When was the coin design first released?
First issued in 1847, William Wyon Gothic Crown is inspired in part by the Scottish artist William Dyce.
Who were The Great Engravers?
Chief Engraver from 1828 until he died in 1851, many collectors consider William Wyon RA to be one of the finest artists to have ever worked on British coinage.
The obverse and reverse designs are works of genius and were produced by engraver William Wyon at the very peak of his creative career.
Coveted by Victorian numismatists and mostly collected straight from the Bank of England, only 8,000 silver along with a handful of gold coins were struck.
William Wyon created one of the world's most beautiful coins.
Precision detailing complements the artistry of the original. Created using the die Wyon himself used, remastered to remove historical blemishes, this modern interpretation breathes new life into this cherished design.