Olympic Football 50p
The Football 50p coin is the most sought-after of the 29 Olympic 50p coins by UK coin collectors.
The coins were issued to commemorate the Games of the XXX Olympiad, in London 2012.
The popularity of football in the UK plus it being the lowest mintage coin of the set with just over 1 million coins mint, makes it the favourite coin to collect.
The coin design depicting the Offside Rule also sparks debate between football fans on the rules of the game and how they are refereed.
How many Football 50p coins were made?
The mintage figure for the Olympic Football 50p in general circulation is 1,125,500 coins.
This is the lowest mintage of all the London 2012 Olympics 50p coins.
Olympic 50p Coins Mintage Figures
Here is a list of all the 50p coins put into general UK circulation for the London 2012 Olympic Games.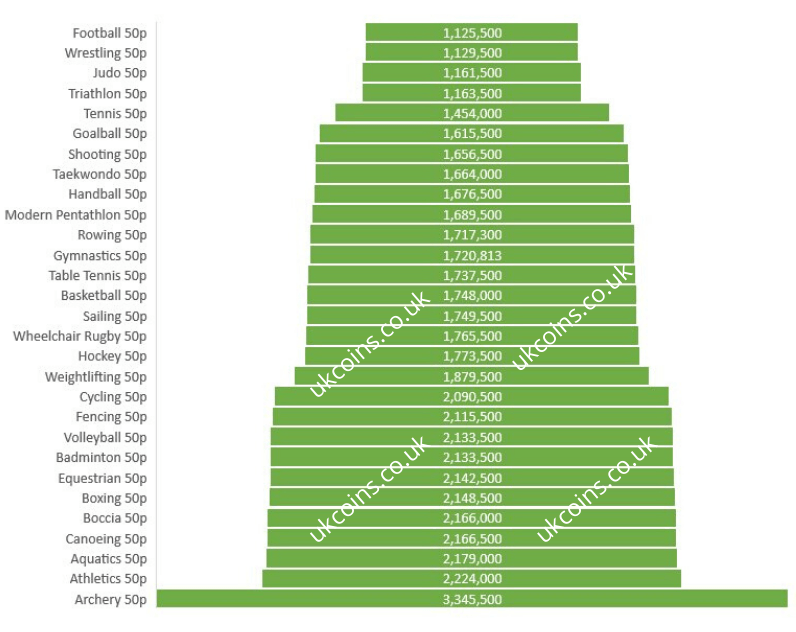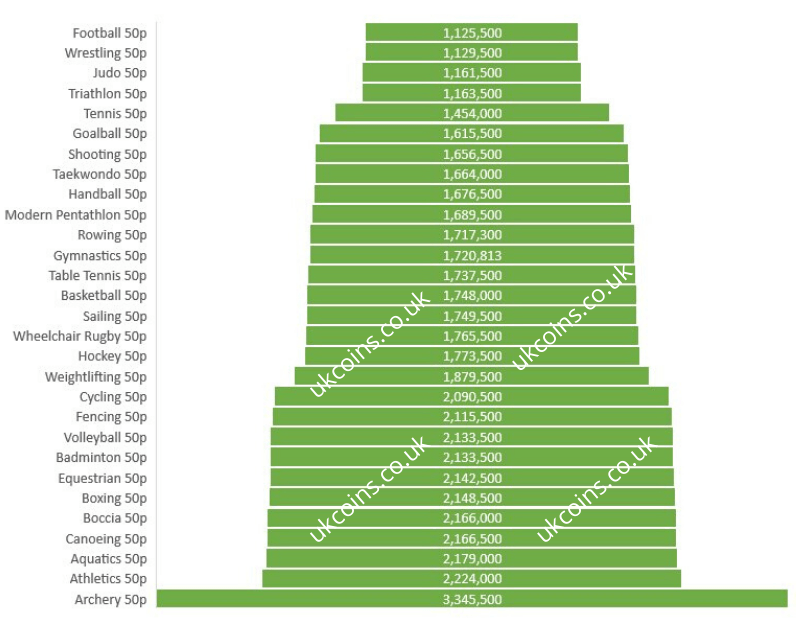 Football 50p Value
UK coin collectors are willing to pay a premium to purchase a Football 50p.
Our research of eBay sold/completed listings shows that in the past 2 months the average price for this coin is £10 with 145 sales of the circulated coin.
The average price for the Football Offside Rule Olympic 50p in Brilliant Uncirculated condition is £27
Coin values can vary greatly depending upon the condition of the coin and the packaging so do your own research before purchasing any coins.
There have been fake 50p coins on eBay so ask the seller if the coin is genuine before you commit to buy it.
Football 50p Circulated Coins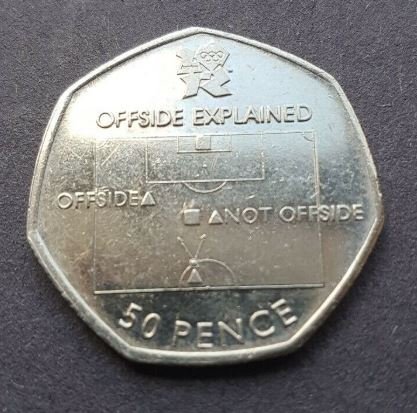 The coin has the text "OFFSIDE RULE EXPLAINED" and the words "50 PENCE".
The scene depicts a football player deciding if they should pass the ball to a team-mate on the left (in an "OFFSIDE" position) or player on the right (who is in a "NOT OFFSIDE" position) since they are on a level with the last defender from the opposing team.
The obverse of the coin shows the Queen's effigy and is dated 2011.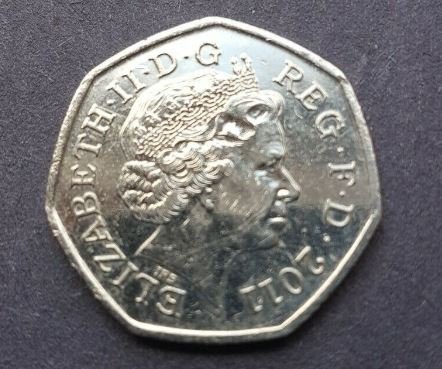 Football 50p Brilliant Uncirculated Coins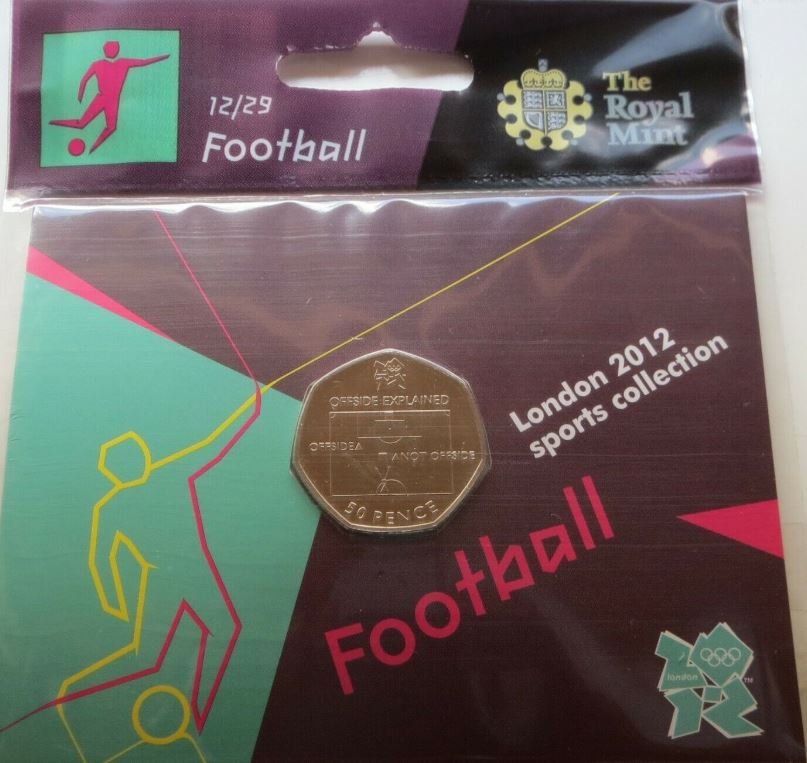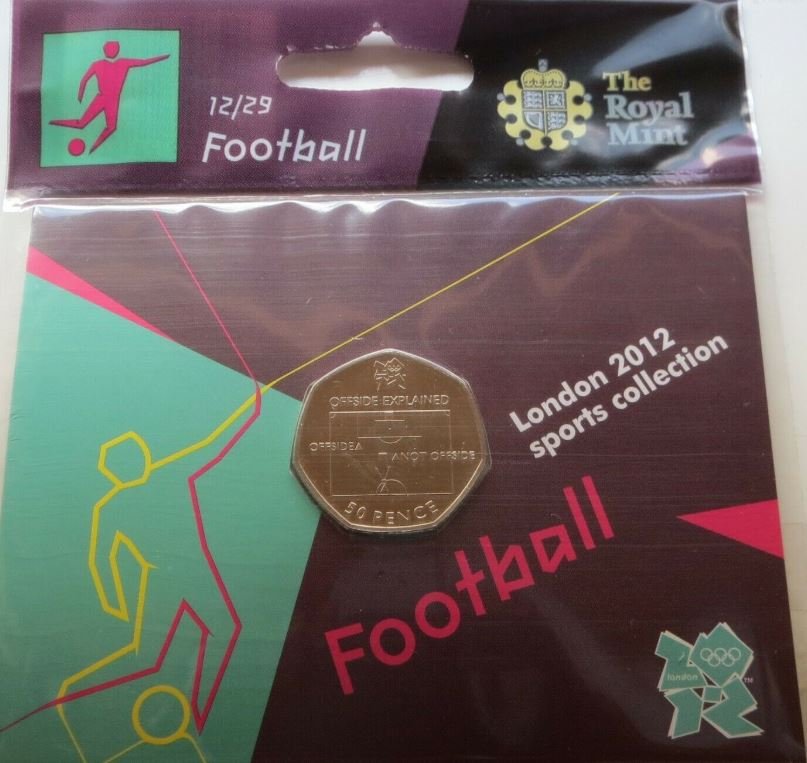 The price for a Football 50p when it was released was £2.99.
They are packaged in the familiar Royal Mint swing bags. A thin plastic bag with a hole top middle so that the coins can be placed on a carousel peg in the store.
The top part of the swing bar rips very easily so take care when handling this especially if you just purchased a new Football coin.
Football 50p Silver Proof Coins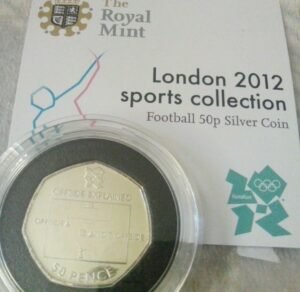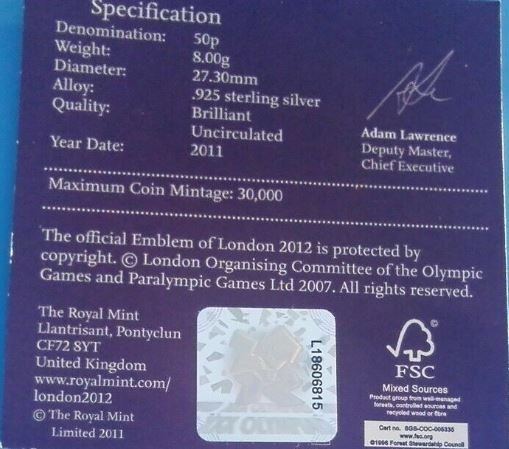 The Silver Proof coins have a maximum coin mintage of 30,000 coins
Coin Design
The football 50p was designed by Neil Wolfson.
Neil Wolfson is a production journalist living in London. He designed his coin in the hope that it would encapsulate football in one simple image.
As the offside rule is a perennial talking point in the UK, the image is designed to provoke discussion on the rule.