Sadly, the eBay Price History tool is no longer available as eBay decided to remove their API to allow users to query sold items.
Instead we developed a UK Coin Checker tool to allow you to easily search eBay for coins for sale, and then break out the search results into HIGH / MEDIUM / LOW prices for comparison.
Try it here: UK Coin Checker
Find SOLD items on eBay using simple keywords or category search options.
Search for the most recent, highest or lowest selling prices.
How to use the eBay Price History tool

enter keyword(s) for the item you want to get price history for, example "Peter Rabbit 50p"
Choose your country (defaults to UK)
Choose the Item Category e.g. "Coins / Money" (this will improve your results)
Choose your sort preference
click the SEARCH button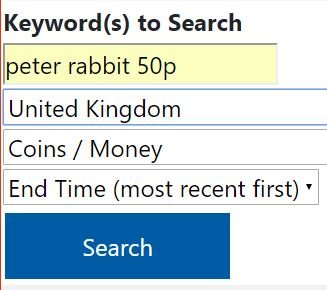 The top 25 search results will be shown.
eBay Price History Results
Click any image or blue text to see the actual item on eBay.
eBay may show you a similar item that is still for sale.
To see the original eBay listing, click the "listing" link to go to the sold item.

The eBay Price History tracker is free to use.
If you are buying or selling anything on eBay then you will know the prices of items varies wildly. We decided to develop this tool to make price check research much easier.
Check the latest eBay selling price, the highest eBay price or lowest eBay price for what you search for.
It is also great to see what is selling regularly so check back to tour tool often to see product sales history on eBay.
eBay Coin Price History
The most common question we get asked about any coin is, "how much is it worth?"
This is not the easiest question to answer since coins vary greatly in condition and rarity.
Demand can also change over time, especially if a limited release coin just sold out. eBay prices may peak.
We found ourselves spending many hours searching eBay listings for coin asking prices and coin selling prices.
To make this an easier task, we have developed an eBay Price History check tool and decided to share it with our website users.
It works for any eBay product and eBay category.