75th Anniversary of VE Day Coin
75th Anniversary of VE Day Coin release from The Royal Mint.
75th Anniversary of VE Day 2020 UK £2 Brilliant Uncirculated Coin
75th Anniversary of VE Day 2020 UK £2 Brilliant Uncirculated Coin specifications
| | |
| --- | --- |
| Denomination | £2 |
| Maximum Coin Mintage | Unlimited |
| Alloy | Inner: Cupro-nickel – Outer:Nickel-brass |
| Weight | 12.00 g |
| Diameter | 28.40mm |
| Reverse Designer | Dominique Evans |
| Obverse Designer | Jody Clark |
| Edge Inscription | JUST TRIUMPH AND PROUD SORROW |
| Quality | Brilliant Uncirculated |
| Year | 2020 |
| Country Of Origin | United Kingdom |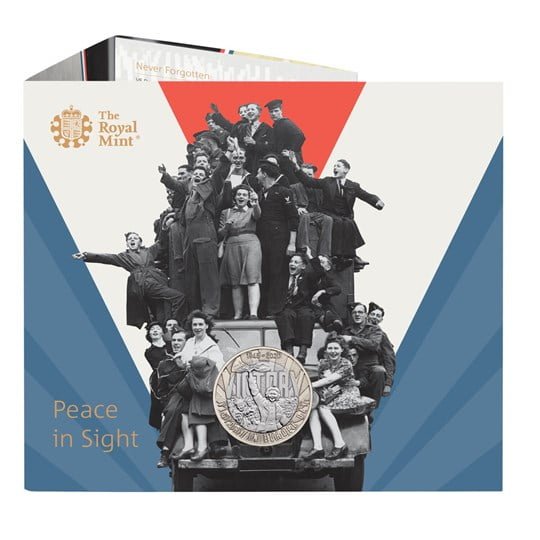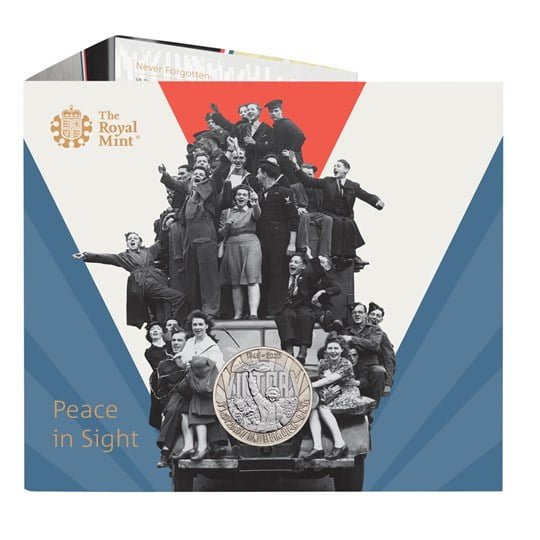 An official UK Coin to celebrate the 75th anniversary of VE Day
Produced in collaboration with Imperial War Museums (IWM)
Commemorate this national celebration with the perfect keepsake
Join the nation in marking a major milestone and one of the most significant events in living memory
The educational packaging brings the events of VE Day to life
United Across Generations
Following news of Germany's surrender, 8 May 1945 – Victory in Europe (VE) Day – was declared a public holiday. With bunting strung from lamp posts and pubs stocked with beer, war-weary Britons could finally celebrate. People danced and hugged in the streets as sheer joy broke down social conventions. "This is your victory," declared Winston Churchill, paying tribute to the British people who had remained unbowed by the bombings and blackouts. VE Day remains in the memory of all who witnessed it. Seventy-five years on, we thank the generation who gave so much and honour their spirit and sacrifice.
In 2020, we remember the first hopeful steps towards lasting peace and the promise of a brighter future with a commemorative £2 coin. Available in limited-edition gold Proof, silver Proof and silver Proof Piedfort editions, alongside a Brilliant Uncirculated edition, Royal Mint graphic designer Dominique Evans captures the magnitude of events with a design that puts people at the very heart of the coin – the rays emanating from the centre evoke a sense of hope. As we mark this landmark anniversary, it's a poignant reminder of the strength of national unity in times of crisis.
Sales of this product support the work of Imperial War Museums © IWM
Designed by Dominique Evans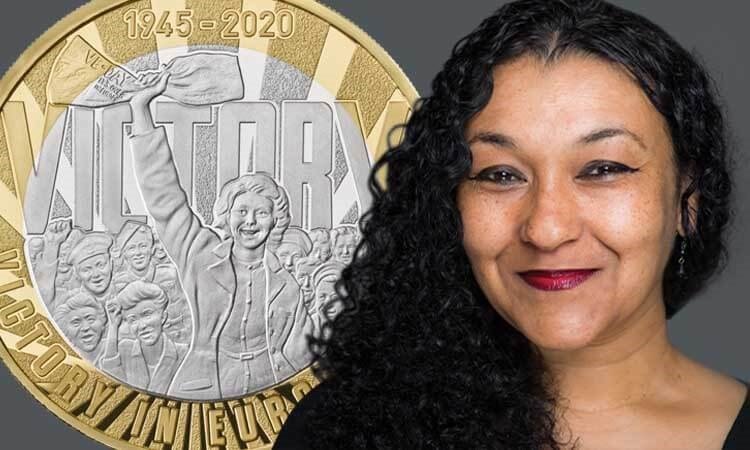 What was the inspiration for this design?
My Nan very much inspired my design for this coin – bringing to life her stories of this time when she was a young girl in London and later sent to Bournemouth during the war.
What challenges did you encounter?
Capturing the scale of events was certainly a challenge. People weren't just celebrating in Britain, but all across the world. Then I had to consider the full spectrum of emotions experienced at this time.
How did you feel when you saw the coin for the first time?
When I look at this coin, it's hard not to get emotional. I think to myself how lucky my family has been. My grandfather was celebrating far away from my Nan. They had yet to meet and begin their life together. Two lives destined to come together after VE Day and because of this twist of fate, our precious family, complete with so many memories, has grown around them