2021 Team GB 50p Coins
The 2021 Team GB coins are available from 9am on Monday 21st June 2021.
Released in BUNC, Silver, Silver Piedfort and Gold Proof Coins to celebrate the Team GB 2020 Olympics held in 2021.
2021 Team GB 50p eBay Listings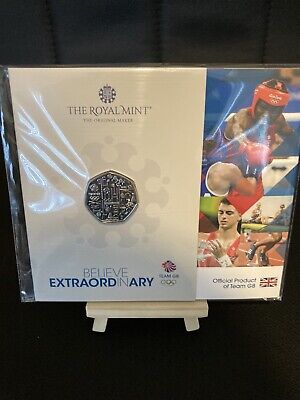 Bids: 0 bids
Watching: 9 people
£9.79
View on eBay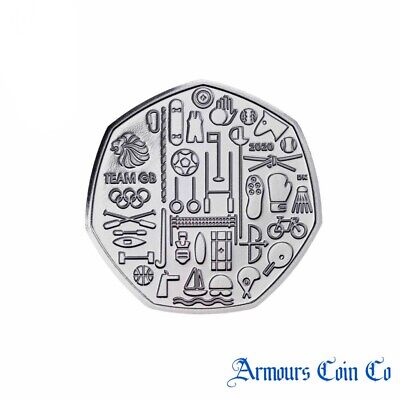 Bids: 0 bids
Watching: 2 people
£7.25
View on eBay

Bids: 0 bids
Watching: 62 people
£8.95
View on eBay
Prices shown here may not be final, check eBay for final selling price plus any applicable tax, import or shipping charges. These are not our products for sale. Please check all details directly with the eBay seller before commiting to any purchase.
The Gold Proof Coin is now sold out. Due to the extremely limited mintage figure, it was sold within 1 hour of release.
2021 Olympic Coins
With the world's gaze fixed firmly on Japan, The Royal Mint, the maker of the Olympic medals for London 2012, is delighted to present the official 50p coin in support of Team GB at the Tokyo 2020 Olympics held in 2021.
Available as a number of editions, the coin features a design that celebrates athletic dedication and the diversity of events that constitute the modern Games.
Show your support and commemorate sporting history as it's made, with a lasting memento of this year's summer games.
See other Olympic Coins for the UK.
Will the 2021 Team GB coin be collectible?
The 2020 version of the Team GB 50p is already popular with UK coin collectors as the games did not take place as planned (due to the COVID-19 global pandemic). It's considered by some collectors as an "error coin" – as it celebrates an event that did not take place.
The newly release 2021 coin is also likely to be sought after by numismatists as as the obverse of the coin in dated 2021, whilst the reverse has the 2020 date.
Will these fifty pence coins be found in you pocket change?
As far as we know, these will be collectors-only coins and not entering general UK coin circulation. Use the blue button above to check availability at the UK Royal Mint as we expect these coins to sell out fast!
Team GB Coins
First staged 125 years ago, the modern Olympic Games are a celebration of shared humanity and one of the world's greatest sporting events. After a prolonged wait, the Games in Tokyo is finally set to go ahead in 2021. For the athletes of Team GB, the chance to compete is the culmination of long-held dreams and – undeterred by the delay – they've maintained peak condition for their chance to make sporting history.
At the London 2012 Olympic Games, winners were presented with medals struck by The Royal Mint, whilst a series of themed 50p coins captured the spirit of the occasion along with the public's imagination. Showcasing the diverse mix of sports that make up the modern Olympic Games, they have since become highly collectable and serve as a reminder of a glorious summer of British sporting success right here on home soil. Olympic fever swept the country again four years later in Rio when Team GB surged to their best performance away from home, winning 67 medals in all. This extraordinary achievement united the nation in pride and, these memories were captured by an official Team GB 2016 UK Coin struck by The Royal Mint.
These sporting designs have captured the imagination of customers all over Great Britain and Northern Ireland and now we're ready to unveil the official UK 50p coin for this year's summer games. Featuring a reverse design by David Knapton, a senior designer at The Royal mint, the coin pays tribute to the dedication of Team GB's Olympians whilst celebrating the mix of traditional and more youthful sports that make up this year's Olympic Games.
This is the perfect way to support Team GB in their bid for sporting glory and provides a lasting memento of a glorious summer of sport when medals were won, records broken and British athletes competed with the best in the world. Add the 2021 coin to your collection or give as a gift to any aspiring Olympians who dream of emulating their sporting heroes.
2020 Team GB 50p Coins
2020 Team GB 50p Coins – This coin design has already been released in some coins sets with a date of 2020. This is the 2021 dated version.