Rare 50p Coins List – do you have one worth £250 in your spare change?
Check our list of rare 50p coins in circulation and what they are worth today.
Rarest 50p Coins
The rarest 50p coins in circulation in 2021 have been revealed as the Royal Mint marks half a century since the fifty pence piece was introduced.
The fifty pence coin entered UK coin circulation on the 14th of October 1969. It remains the most collectable denomination of UK coin in Britain in 2021.
Click any link for more information on each coin.
The top ten rarest 50p designs in circulation, with their mintage figures, are:
| | | |
| --- | --- | --- |
| Rare 50p List | Coin Name | How many in circulation? |
| | 2009 Kew Gardens 50p | 210,000 |
| | 2011 Olympic Wrestling 50p | 1,129,500 |
| | 2011 Olympic Football 50p | 1,161,500 |
| | 2011 Olympic Judo 50p | 1,161,500 |
| | 2011 Olympic Triathlon 50p | 1,163,500 |
| | 2018 Peter Rabbit 50p | 1,400,000 |
| | 2018 Flopsy Bunny 50p | 1,400,000 |
| | 2011 Olympic Tennis 50p | 1,454,000 |
| | 2011 Olympic Goalball 50p | 1,615,500 |
| | 2011 Olympic Shooting 50p | 1,656,500 |
Rare 50p Coins
Rare 50p Coins are the most collected coins from general circulation in the UK by British coin collectors.
Some fifty pence coins have a low mintage figure making them rare coins that are hard to find in your pocket change.
Fifty pence coins are produced in their millions by the Royal Mint, who send them to UK banks and Post Offices who put them into general circulation.
In recent years, The Royal Mint has increasingly issued coins as "commemoratives only" meaning they can only be purchased on the Royal Mint website or in after-market platforms such as eBay. These are commonly referred to as BUNC coins (brilliant Uncirculated).
Rare 50p Coin Values
The value of coins is hugely dependent upon rarity and condition. Even a rare coin in poor condition will be greatly devalued so always make a close inspection of any coins to determine their worth.
The base metal will also affect price, with silver and gold proof coins selling for a premium.
Check our page for the rare 50p coin values of all base metal 50p coins in circulation. We also have a rare two-pound coins list.
Rare 50p List
To see how many of each fifty pence coin was produced, see our 50p price list page which includes mintage figures for each 50p coin. This will show you every all the rare 50p coins in circulation.
The following are the most sought-after 50p coins.
Aquatics 50p
Probably the most valuable fifty pence is the 2012 Olympic Aquatics 50p, with lines going across the swimmer's face.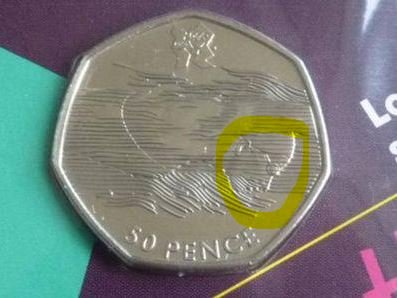 We recently saw one of these coins on eBay showing as sold for £1,850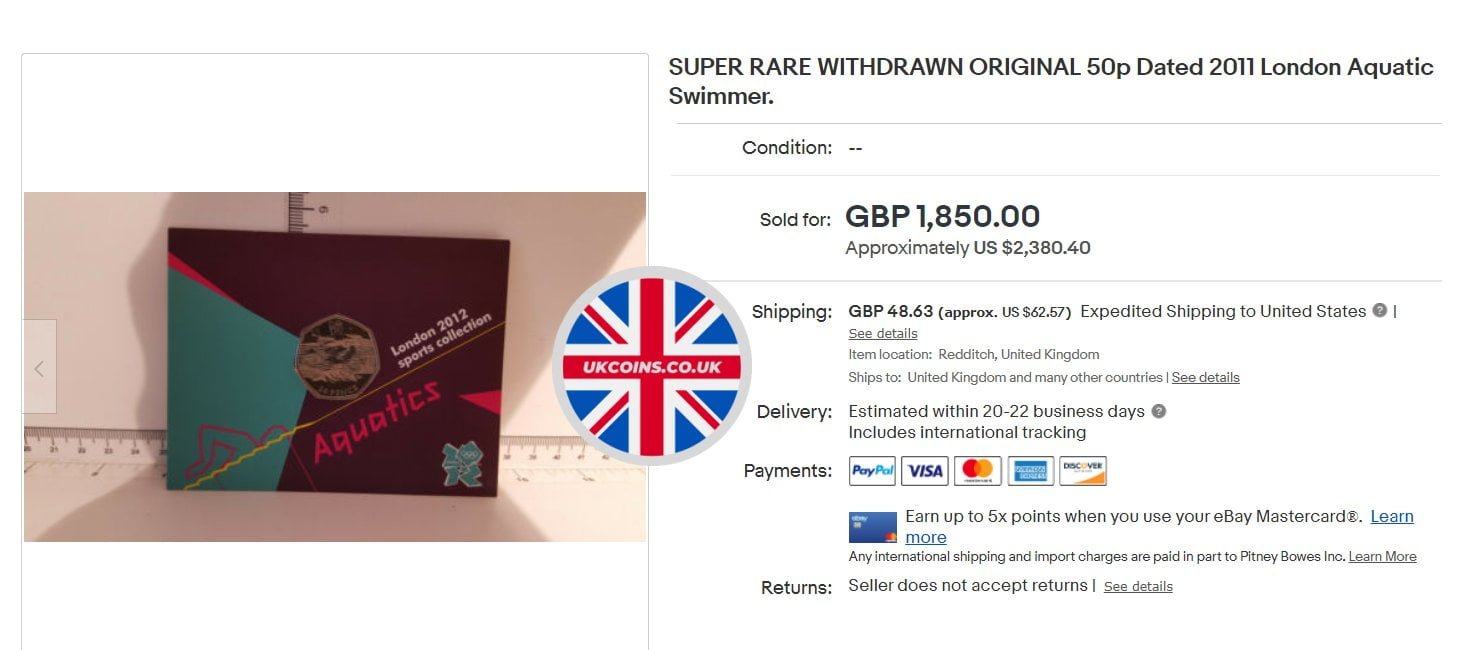 This is the first release of this coin before The Royal Mint released a new version with the lines removed from the swimmer's face. Only 600 of the original design were put into circulation, and some may have been destroyed by shopkeepers thinking they were worthless after the new design was issued.
Aquatics 50p fake/copy coins
Since it attracts such a high price, be aware that there are many fakes of this coin being sold online.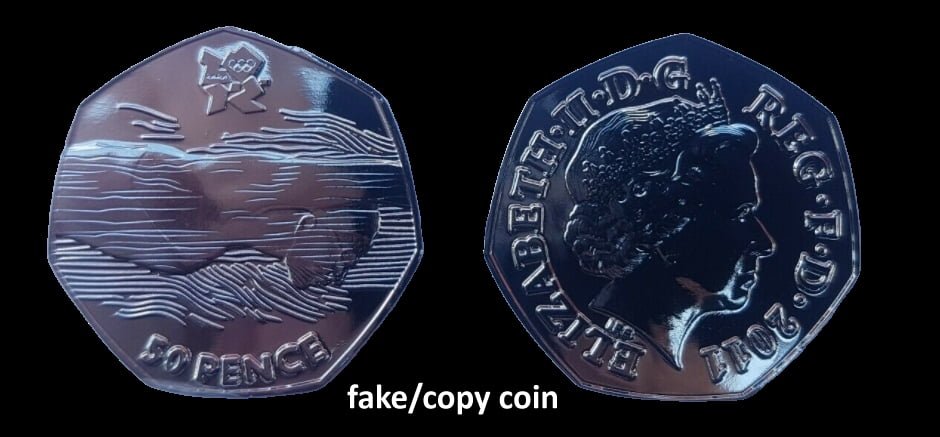 Check for original packaging and ask the seller to confirm it is a genuine example.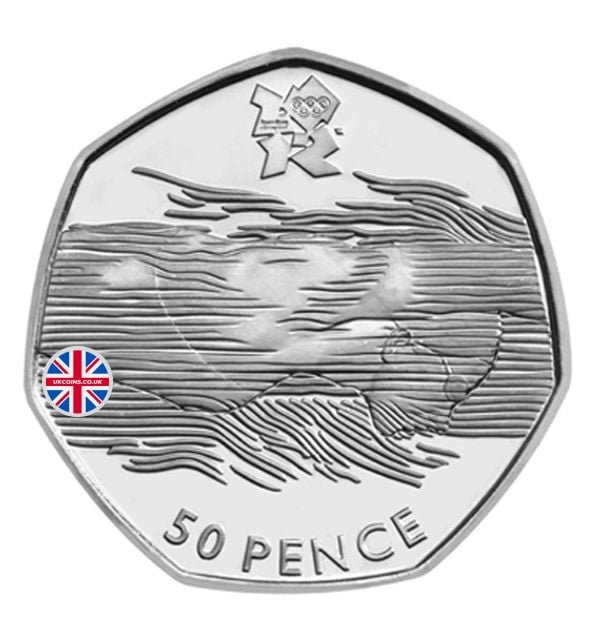 Since this coin was sold in shops in a commemorative swing bag on a cardholder, you are extremely unlikely to find this one in your purse.
Kew Gardens 50p
The most loved fifty pence coin in circulation is the Kew Gardens 50p, issued in 2009.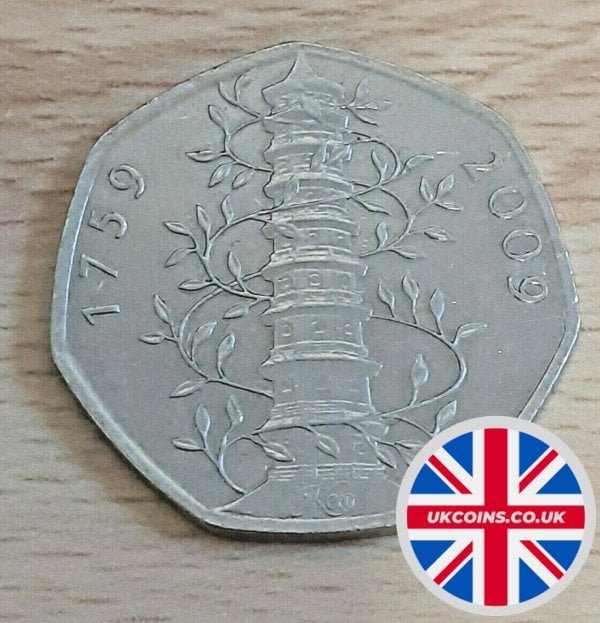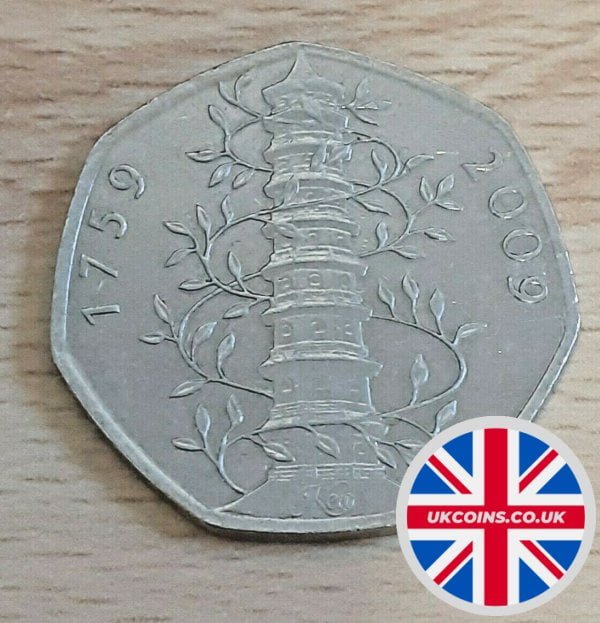 Most coins are issued in the millions however the Kew Gardens 50p has a mintage figure of just 210,000 coins, making it the rarest fifty pence in general circulation.
Worth in excess of £150 for a 2009 genuine example, this coin also has many fakes on eBay. It was also reissued by The Royal Mint as a commemorative only coin in 2019, so check the date on the back. The re-issued coin is not rare or as valuable.
Beware of fake/copy coins. Some of these are reported to have entered UK coin circulation. A genuine circulated coin should show signs of wear and not be overly shiny.
Visit the Kew Gardens website for details of the Royal Botanical Gardens.
Football 50p
The Football 50p is part of the twenty-nine fifty pence coins issued to celebrate the London Olympics in 2012.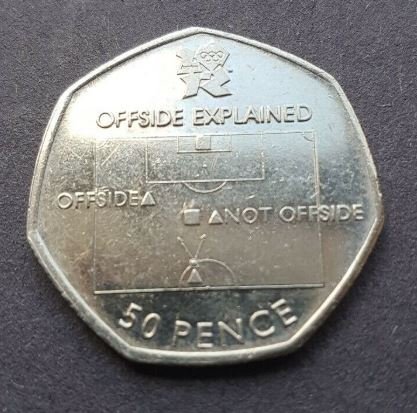 Also known as "the offside rule" coin, this fifty pence has the lowest mintage of the set with just one million coins minted. It's quite curious that someone decided to make this the rarest Olympic coin for a footy loving nation like England where it would be the one most people would probably buy.
Wrestling, Judy, and Triathlon coins follow close behind with similar low mintages around the 1 million coins.
The Olympic 50p coin series is credited with starting the craze in the UK of commemorative coin hunting.
Blue Peter 50p
Another rare fifty pence is the Blue Peter 50p. The children's TV show Blue Peter held a competition to design one of the Olympic Coins and a small number were issued in Blue Peter packaging. Interestingly, the coin was dated 2009 when all the other Olympic coins carry the date 2011.
We recently saw this coin on eBay selling for over £350 in its original packaging.

Beatrix Potter 50p coins
The first release of Beatrix Potter fifty pence coins in 2016 started a new craze of fifty pence coin collectors.
One of the rarest fifty pence coins to find in the Beatrix Potter list is Jemima Puddle-Duck. with just over two million coins minted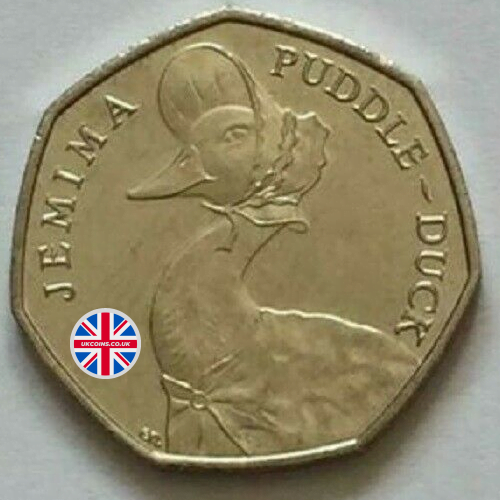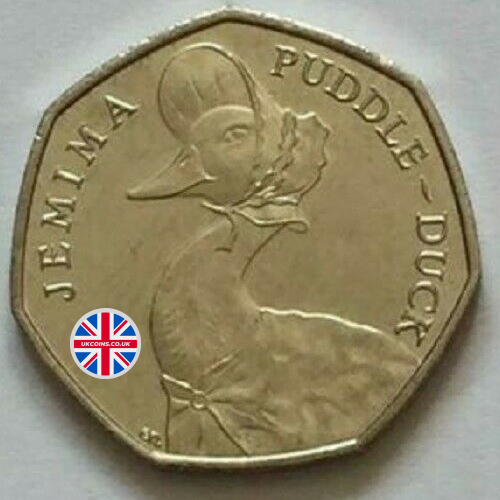 The 2018 Peter Rabbit fifty pence and 2018 Flopsy Bunny coins, each has a mintage figure of one million four hundred thousand, whilst only 1.7 million Mrs. Tittlemouse coins were issued.
Rare 50p Coins eBay
Be very careful when buying "rare" 50p coins on eBay and other online sales platforms. A lot of sellers will put the word "rare" into their sales listing just to get better search results.
We often see titles stuffed with "not kew gardens", as click-bait just to get better views.
Always read the title and item description.
Watch the Rare 50p Coins video on YouTube