1999 Rugby World Cup £2 Coins
Rugby £2 coin celebrating the 1999 Rugby World Cup.
Rugby World Cup £2 eBay
Rugby World Cup £2 coins for sale on eBay
Rugby World Cup £2 Coins
Shop: Griffin's Coins Shop
£3.80
(3 bids)
Ends in 1d 18h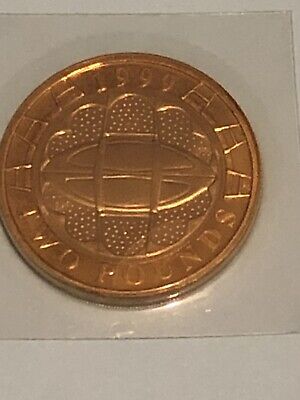 Shop: Crowthorne Collectables
£4.25
Ends in 15d 19h
These are not our coins for sale, please check with the eBay seller directly to confirm the details of the coin being offered.
Rugby £2 Coin Worth?
Recent eBay sold listings for this coin indicate that a circulated coin in good condition is worth £2.75.
See our Rare £2 Coins page for current values.
Please note coin prices vary wildly depending upon rarity and condition. Prices provided are averages, not specific prices for individual coins. These prices are only updated from time to time and as such do not reflect short-term pricing trends.
Please do your own research before buying and selling UK coins.
Rugby £2 Coin Design
Design depicts a stadium full of supporters (the dots), upon which is superimposed a rugby ball and goalpost. The date '1999' above separated by goal-posts from the value 'TWO POUNDS' below.
RD in tiny letters inside the goal post to the right of the ball are the initials of the coin designer, Ron Dutton.
In 1999 the world's finest rugby-playing nations came together in the spirit of competition to battle for the Wed Ellis Cup in the finals of the Rugby World Cup.
Hosted by the Welsh Rugby Union, the matches were played at venues throughout the five nations of England, France, Ireland, Scotland and Wales.
The pulsating atmosphere, movement, sound and colour of the great game of Rugby and the enthusiasm of its spectators were captured by Ron Dutton on the reverse of the 1999 two-pound coin struck to commemorate this eagerly awaited sporting event, the 1999 Rugby World Cup.
Mintage Figures
The mintage figures for the Rugby World Cup are:
| | |
| --- | --- |
| Base Metal | 4,933,000 coins entered circulation |
| Brilliant Uncirculated (BU/BUNC) | 136,696 |
| Silver Proof | 9,665 |
| Silver Proof Piedfort | 10,000 |
| Gold Proof | 2,214 |
Circulated Coin Specification
Year Of Issue
1999

Diameter

28.4mm

Weight

12.0g

Thickness

2.5 mm

Composition

Outer:  Nickel-Brass (76% copper, 4% nickel, 20% zinc)
Inner:  Cupro-nickel (75% copper, 25% nickel)

Obverse Designers

Ian Rank-Broadley FRBS

Reverse Designer

Ron Dutton

Edge

Milled

Edge Inscription

Rugby World Cup 1999