2011 King James Bible £2
Celebrating the 400th Anniversary of the King James Bible in a commemorative two pound coin.
This coin can be found in general circulation.
King James Bible £2 Coins eBay
King James Bible £2 Coins for sale on eBay
King James Bible £2 Coins
Shop: SJF Coins
£24.99
Ends in 27d 14h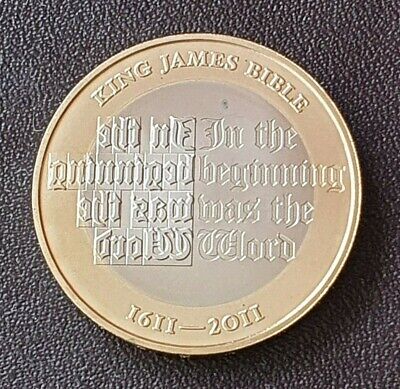 These are not our coins for sale, please check with the eBay seller directly to confirm the details of the coin being offered.
What's the King James Bible £2 Coin Worth?
Recent eBay sold listings for this coin indicate that a circulated coin in good condition is worth £4.75.
See our Rare £2 Coins page for current values.
Please note coin prices vary wildly depending upon rarity and condition. Prices provided are averages, not specific prices for individual coins. These prices are only updated from time to time and as such do not reflect short-term pricing trends.
Please do your own research before buying and selling UK coins.
Is the King James Bible £2 Coin rare?
With less than one million coins put into circulation, the King James Bible £2 coins are less common with one in one thousand coins.
The Royal Mint mintage figures for the King James Bible are:
| | |
| --- | --- |
| Base Metal | 975,000 coins entered circulation |
| Brilliant Uncirculated (BU/BUNC) | 106,268 |
| Silver Proof | 4,494 |
| Silver Proof Piedfort | 2,394 |
| Gold Proof | 355 |
Coin Specification
Issued
2011
Diameter
28.4mm
Weight
12.0g
Thickness
2.5 mm
Composition
Outer:  Nickel-Brass (76% copper, 4% nickel, 20% zinc)
Inner:  Cupro-nickel (75% copper, 25% nickel)
Obverse Designers
Ian Rank-Broadley
Reverse Designer
Paul Stafford & Benjamin Right
Edge
Milled
Edge Inscription
THE AUTHORISED VERSION
About This Design
Commemorating a beloved cornerstone of our culture and language four centuries since its first publication; the King James Bible. Few books have had such an impact on the world as the King James Bible.
First published in 1611, its influence on the English language is still evident today and it remains one of the best loved Bible translations.
The very spirit of the King James Bible is brilliantly captured on the £2 coin celebrating its 400th anniversary.
Cleverly reminding us that printing concerns were at the heart of the matter in 1611, the commemorative reverse design displays the first words from the book of John – In the beginning was the Word – in the reversed raised text of the printing block on the left and the recessed text of the printed word on the right.
The words chosen for the edge inscription – THE AUTHORISED VERSION – are entirely appropriate and complete the story.
The obverse bears The Queen's portrait by Ian Rank-Broadley FRBS.