2005 Gunpowder Plot £2
Marking the 400th anniversary of the Gunpowder Plot.
These coins are an arrangement of crossiers, maces and swords surrounded by stars and the dates 1605 & 2005. Denomination TWO POUNDS below. Also known as the Guy Fawkes coin although there is no mention of Guy Fawkes directly on the coin.
2005 Gunpowder Plot £2 Coins eBay
Gunpowder Plot £2 coins for sale on eBay
Gunpowder Plot £2 Coins
These are not our coins for sale, please check with the eBay seller directly to confirm the details of the coin being offered.
Gunpowder Plot £2 Coins Worth?
Recent eBay sold listings for this coin indicate that the current value for a circulated coin in good condition is £3.00.
See our Rare £2 Coins page for current values.
Please note coin prices vary wildly depending upon rarity and condition. Prices provided are averages, not specific prices for individual coins. These prices are only updated from time to time and as such do not reflect short-term pricing trends.
Please do your own research before buying and selling UK coins.
Pemember, Pemember Coin minting error?
The edge inscription of the Gunpowder Plot coins read "REMEMBER REMEMBER FIFTH OF NOVEMBER". There are examples of this coin in circulation where the down-stroke of the leading R is not well defined.
From a distance, it makes it read "PEMEMBER PEMEMBER FIFTH OF NOVEMBER".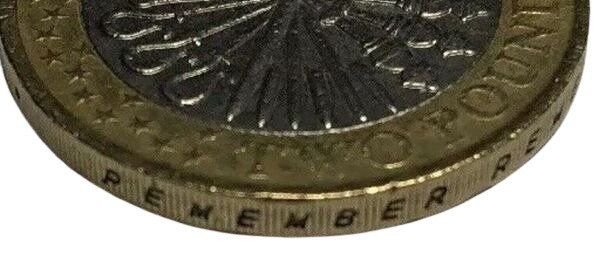 The Royal Mint has not admitted the mistake as an official minting error. A spokesperson said: "It's likely to be a consequence of the production process. It's very, very infrequent that we issue coins with an error. We have quality control to detect any defects."
We have seen these listed for sale as "rare error coins" for hundreds of pounds. They are fairly common and can be picked up for just a few pounds on eBay.
Mintage Figures
The mintage figures for the Gunpowder Plot are:
| | |
| --- | --- |
| Base Metal | 5,140,500 coins entered circulation |
| Brilliant Uncirculated (BU/BUNC) | 93,744 |
| Silver Proof | 4,394 |
| Silver Proof Piedfort | 4,584 |
| Gold Proof | 914 |
Coin Specification
Year of Issue
2005
Diameter
28.4mm
Weight
12.0g
Thickness
2.5 mm
Composition
Outer:  Nickel-Brass (76% copper, 4% nickel, 20% zinc)
Inner:  Cupro-nickel (75% copper, 25% nickel)
Obverse Designers
Ian Rank-Broadley
Reverse Designer
Peter Forster
Edge
Milled
Edge Inscription
REMEMBER REMEMBER FIFTH OF NOVEMBER
About This Design 
An arrangement of crossiers, maces and swords surrounded by stars and the dates 1605 & 2005. Denomination TWO POUNDS below.
The plot to assassinate King James I at the opening of Parliament on 5 November 1605, thankfully thwarted due to the anonymous letter sent to Lord Monteagle, is a piece of British history that shall 'never be forgot'.
400 years later, in 2005, The Royal Mint remembered the Fifth of November with a splendidly-detailed two-pound coin. In the words of the artist Peter Forster its intricate reverse design shows symbols of State, represented by the mace, crosier and sword alluding to the survival under threat of the British establishment.
The circular arrangement in which they are shown is also suggestive of a Catherine Wheel and the surrounding stars are a further reference to fireworks. The dates are rendered in an early seventeenth-century style of font.
Read more on the story of the Gunpowder Plot of 1605.