BUNC Coins For Sale
BUNC Coins direct from The Royal Mint in the UK. Click any "Buy This Coin" button to check the latest pricing and availability.
Please note: Subject to availability. Prices shown are subject to change at any time due to the fluctuation in precious metal prices (Gold, Silver, Platinum). Please click on the Buy It Now button to see the current price and availability direct from The Royal Mint website.
What are BUNC coins?
BUNC Coins refers to coins minted by the Royal Mint in the UK to a higher standard than those you find in your pocket change.
Brilliant Uncirculated means a bright shiny coin direct from the mint that has not been touched by human hands since production.
Uncirculated means it hasn't been in change before and comes in bags from the bank or Post Office. These may have dings from being in a bag with other coins.
BUNC is a short term for Brilliant Uncirculated also sometimes called BU coins.
Brilliant Uncirculated coins are intended as an entry-level collectible coin or as the perfect affordable gift for someone looking to mark a special occasion or year.
Like Proof coins, the dies used to strike Brilliant Uncirculated coins are polished and finished by hand.
The Brilliant Uncirculated blanks are machine-fed and struck twice. As a result, they are produced at a much quicker rate than Proof coins – around 100 per hour.
They offer a good level of design detail, but have a lower definition than Proof coins.
BUNC Colour Coins
More recently, the trend has been to issue BUNC coins with the options of either a plain coin or with a colour-printed decal.
Some eBay sellers also sell these decals so that you can apply them yourself.
Limited Edition Presentations
The Royal Mint also releases the same BUNC coins in different packaging, sometimes in limited editions. For example, the 2020 David Bowie coins were issued in different BUNC designs.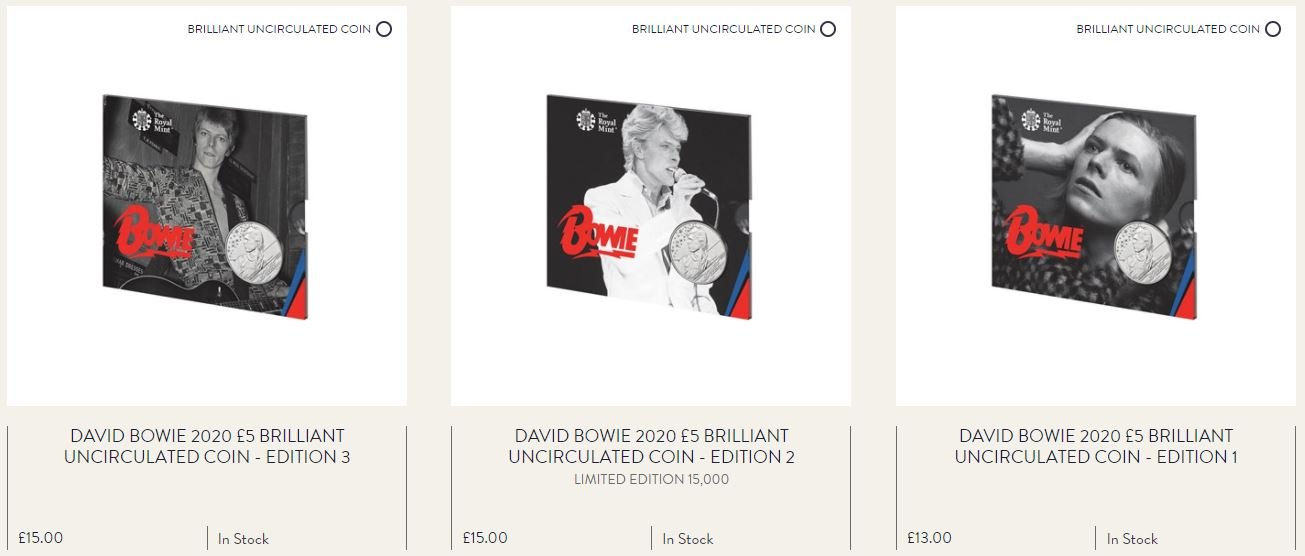 To find these watch out for the term LEP or Limited Edition on coin sales listings. LEP means Limited Edition Presentation and will be accompanied by how many coins are being minted.
BUNC Coin Sets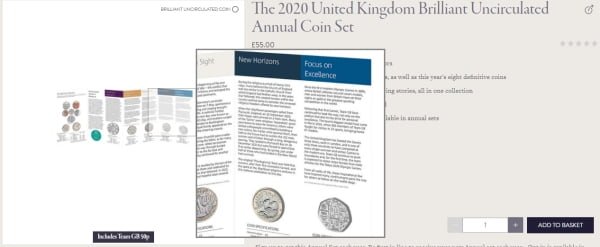 BUNC Coin Sets are issued by The Royal Mint in the UK each year for British Coin collectors who want to buy a set of coins in a package rather than one-by-one.
These are referred to as Annual Coin Sets
This is a great way to increase your coin collection since some BUNC coins are only available as part of coin sets, and not issued individually.
BUNC Coin sets are collected by year or topic such as the 50 years of the 50p Military and Culture coin sets.
What are BUNC Coins made of?
BUNC coins from The Royal Mint are usually made from base metal, such as Cupro-Nickel, although they can also be made of silver or gold.
Most Brilliant Uncirculated coins are struck in base metal. Brilliant Uncirculated coins and bullion coins are struck to a similar standard, without the extra finishing and detail provided on Silver or Gold Proof coins.
The lack of any silver or gold in the regular version content keeps them in a more affordable price range, usually from £10 to £15 each.
How to store BUNC coins?
BUNC coins are usually sold in presentation packaging so the best way to store them is to keep them in that original package.
Coin collectors will pay more to coins in "sealed" (in a bag) condition.
Some coin collections prefer to use coin capsules to better display their collections. This will allow you to show many coins in a smaller display.
The main thing to know is that BUNC coins are free from contact with other coins when you buy them, so make sure not to put your BUNCs all together where knocking into each other can cause dings and damage to your precious coin collection.
Are BUNC Coins Rare?
BUNC coin mintage figures are difficult to come-by as they as many more are issued compared to proof coins.
Some BUNC coins are not rare but can be considered "error coins" such as the TEAM GB 2020 50p, issue to celebrate the 2020 Olympics (that never took place due to COVID-19). This BUNC coin is very sought-after, and NGC Graded examples sell for hundreds of pounds.
Coin Grading
If you really want to be sure of the authenticity and grading of a coin then you need to use a professional coin-grading service such as NGC or PCGS.
They follow the Sheldon Coin Grading scale:
| | |
| --- | --- |
| Uncirculated | MS-60, MS-61, MS-62 |
| Select or Choice Uncirculated | MS-63 |
| Choice Uncirculated | MS-63, MS-64 |
| Gem Uncirculated | MS-65, MS-66 |
| Superb Gem Uncirculated | MS-67, MS-68, MS-69 |
| Perfect Uncirculated | MS-70 |